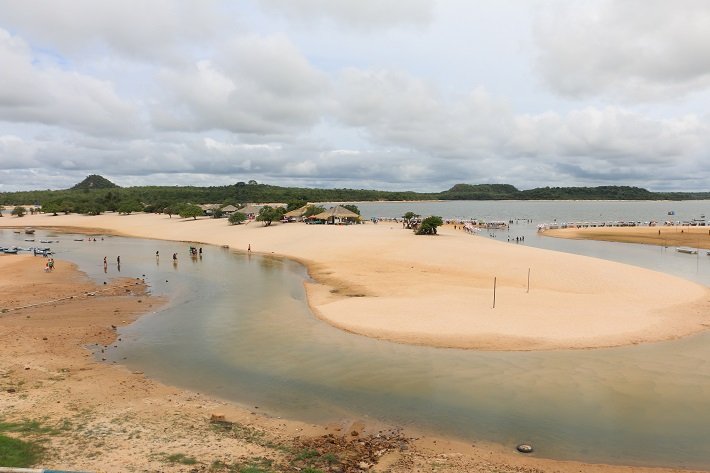 Alter do Chão is a small village in the municipality of Santarém, State of Pará, Brazil. Located on the banks of the Tapajós River, Alter do Chão is also known as 'The Caribbean of the Amazon' due to the beauty of its beaches.
Founded in 1626 in honor of the homonymous village in Portugal, Alter do Chão was initially occupied by indigenous communities and Jesuit missions. In the 20th century, during the rubber cycle, it became one of the routes of latex extracted in Belterra and Fordlândia until 1950. After a period of economic decay, in the 1990s, Alter do Chão opened itself to tourism (source: Wikipedia).
The village is undoubtedly one of the best tourist destinations in Brazil. I visited it only in 2020. What a regret for not having been there before!
In this article, you check out the 12 reasons why you should visit Alter do Chão and be amazed. The risk is wanting to stay!
1. The beauty of its river beaches
The main reason for you to visit Alter do Chão is the incredible river beaches, both in the village itself and in its surroundings. Besides having an indescribable beauty, its warm and delicious waters make you want to spend the whole day bathing there. Many times, pink river dolphins (botos cor-de-rosa) will be diving quietly around you and this harmonic contact with nature will do surprise and delight you.
Because it's fresh water, you don't come out of with your body and hair all 'sticky', as it happens when bathing in seawater. In fact, people with long hair will love Alter do Chão!
In 2009, Alter do Chão was considered by The Guardian as the best beach destination in Brazil. Check out what Tom Philips, the Guardian's Brazil correspondent, wrote about it:
"Brazil's best beach is not in Rio de Janeiro or the sun-bathed north-east. It's not even on the coast. It is on a river at the heart of the Amazon rainforest. Around 30km from the rainforest city of Santarém, Alter do Chão is the jungle's answer to the Caribbean. After a week holed up in the jungle, Alter do Chão is the perfect place to relax: you can lounge on the river beaches in the morning, gorge yourself on a local grilled fish in the afternoon and retreat to one of the area's many charming pousadas by night. People often call the humid and dense Amazon the "green inferno". Alter do Chão is its golden paradise."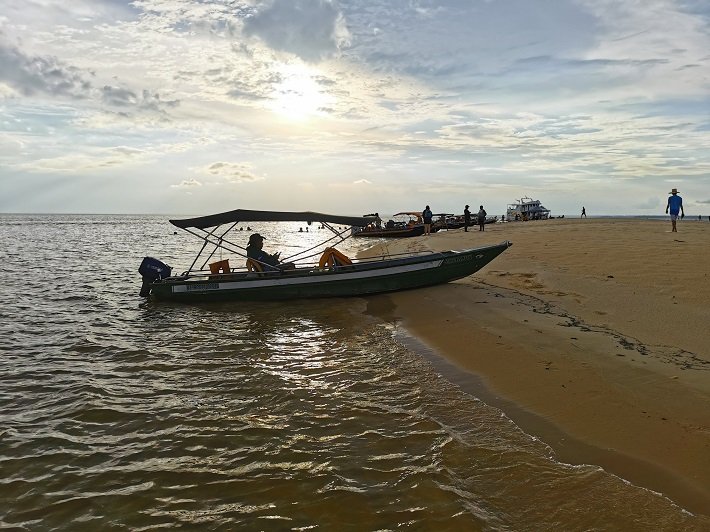 Among the river beaches, the tourist can visit Ilha do Amor (lit. Love Island), in Alter do Chão; and the beaches of Pindobal, Ponta das Pedras and Ponta do Cururu, which are located in the village surroundings.
Hint: To discover the beaches around Alter do Chão, I strongly recommend taking the Arapiuns River tour.
2. Contact with nature
Alter do Chão doesn't just have beaches. The village also gives you access to trails, forests, streams, hills, canals, and riverside communities with their suspended houses to face the flood season (Amazonian winter).
In these different places, you'll have contact (i.e. proximity) with the most diverse types of animals and plants. From the charming pink river dolphins that dive in the Tapajós River to the fearsome alligators on the banks of the Canal do Jari. You will also see monkeys, sloths, turtles, and ducks and hear the birds sing in the forest.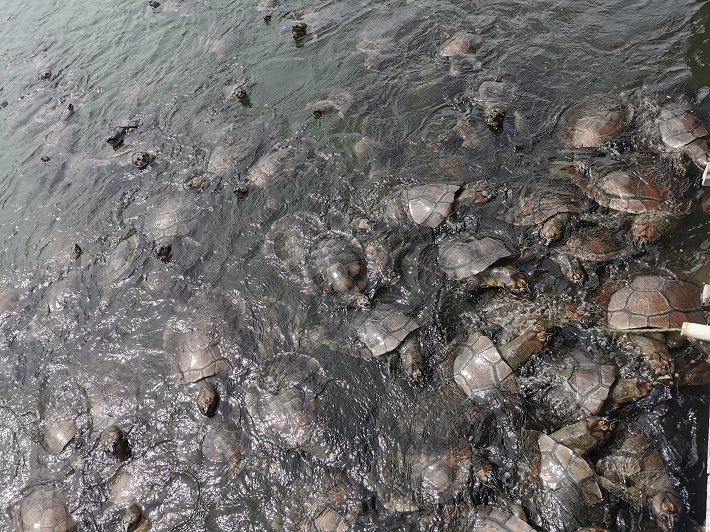 You will also get to know the forest trees and plants and the different uses that local people make of them. Andiroba Oil, for example, reduces muscle pain due to its analgesic properties. It did save me from a muscle strain I had on the trip to the Tapajós National Forest.
Anyway, visiting Alter do Chão is the opportunity to be close to nature and realize the harmony and balance of the Amazon Forest.
3. Cultural festivals
There are two cultural parties that take place in Alter do Chão and delight its tourists: the Sairé Party and the Borari Festival.
The Sairé Party lasts for 5 days and takes place in September. It's the oldest folkloric event in the region. In fact, it's more than 300 years old. This party, initially religious, acquired in the 1990s, also a pagan character.
In the morning, religious rituals take place: processions, prayers, and litanies. At night, the Botos Festival (Boto is the Portuguese word for pink river dolphin) takes place staging the most important folk legend in the Amazon. During the performances, in which the Botos Rosa and the Botos Tucuxi face each other, the Carimbó rhythm sets the tone for fun.
The Borari Festival, which began in the 1990s, takes place in July and portrays the richness of the customs and traditions of the Borari indigenous tribe, through its rituals and dances.
4. Easy access
It's very easy to get to Alter do Chão. The village is just 37 km from Santarém city center. For those coming from Santarém Airport (STM), access is via the PA-457 highway, which is paved and in excellent condition. From the airport, the journey takes around 35 minutes.
The main Brazilian airlines (Gol, Latam Brasil, and Azul) operate at Santarém Airport, but only domestic flights.
There are direct flights to Santarém (STM) from Brasilia (BSB), Manaus (MAO), and Belém (BEL). There are international flights to these 3 airports from Miami (MIA) or Panama City (PTY).
5. Gastronomy
If you like to eat fish, Alter do Chão is your destination. On every tour you take, you can taste freshwater fish, such as Pirarucu and Tambaqui. These are just some of the diverse fish species in the region.
A survey carried out at the Santarém Fish Market identified 41 different species that landed there. Five species are responsible for more than half of the fish landed last year at the fair: hake, aracu, surubim, tambaqui and tucunaré (source: G1.com).
But Alter do Chão, despite being a small village, has restaurants for all tastes. Most of them can be found around the village main square. I would cite, for example, the Italian Restaurant, the restaurants of contemporary cuisine (Mãe Natureza and Arco-Íris da Amazônia), and those specialized in fish (Piracuí and Farol da Ilha). For dessert, be sure to try the Cupuaçu or Coconut candies sold on the stools at the main square.
If you're not very hungry, you can try a delicious hamburger from X Bom Burguer. Be aware that, on certain days, there may be a huge waiting list, but, in my opinion, it is a sign of good food.
The typical gastronomic experience of Alter do Chão is the Piracaia. A kind of luau with a fish barbecue on the beach. It's usually organized by agencies and hotels.
6. Excellent Guesthouses
Despite being a simple village, Alter do Chão offers good accommodation options. There are good and cozy pousadas (guesthouses) with reasonable rates. There are a few hotel options.
However, if you have a tight budget, you can stay in hostels or even in  redários (hammocks), where prices are even cheaper. For sure, it will be a different experience!
7. Cheap prices
In Alter do Chão, you will find good accommodation and good restaurants at cheap prices.
There are excellent guesthouses (review score above 8.5 on Booking) with prices around 200 Brazilian reais (about 38 USD) per night for two people with breakfast. In turn, for lunch and dinner, you will find excellent dishes for less than 50 reais (about 10 USD) in most restaurants.
If you live in a big city, for sure, you should be paying more than that for your meals.
Boat group day trips cost about 150 reais (about 29 USD), which it's also a fair price for sightseeing the beauty of the Amazon.
8. Good quality internet access
As it is a village far from the urban center and in the middle of the Amazon jungle, I expected internet access to be of poor quality.
But, to my surprise, Alter do Chão has a good 4G internet connection, at least for Vivo, which is the phone operator one I use. I managed to get an internet connection even on some beaches far away from the village such as Ponta do Cururu.
On the other hand, the guesthouse where I stayed, Pousada Sombra do Cajueiro, had excellent Wi-Fi. According to the owner, a new internet provider arrived in the region and started offering good quality internet connections.
9. Carimbó
Alter do Chão has a lot of things to do at night. You can walk along the waterfront, visit the fair in the main square, go to the Piracaia or dine in one of its excellent restaurants. If you're brave, you can even hire an evening tour through the forest to watch the animals.
But most of the tourists want to dance the Carimbó, a dance typical of Pará with indigenous, African, and Portuguese influences. The name Carimbó comes from its musical instrument: a handmade drum called 'Curimbó'.
'Carimbó was brought to Brazil by African slaves. Later, indigenous and European influences, especially Iberian ones, were incorporated. The custom arose with the habit of farmers and fishermen who, at the end of their daily work, danced to the rhythm of the drum.' (Source: TodaMateria)
Espaço Alter do Chão is one of the main places for you to enjoy the Carimbó rhythm at night, after a full day of sightseeing.
10. Warm weather all year round
In Alter do Chão, you will not be cold. The weather is hot all year round. The annual average temperature is 25.9 °C (around 79°F)
Basically, Alter do Chão's climate has only two seasons: a dry one, which runs from August to December, also known as Verão Amazônico (Amazonian summer), and a rainy one, which runs from January to July, known as Inverno Amazônico (Amazonian winter).
11. Basic Infrastructure
Alter do Chão has a basic infrastructure to support tourists. In addition to the guesthouses and restaurants, you will find a supermarket, a pharmacy, an ATM, clothing and souvenir shops, health post, churches, night clubs, among other facilities.
Unfortunatelly, I didn't see any exchange in Alter do Chão. You'd better change money in Santarém.
12. Nice People
Since arriving in Alter do Chão, we immediately noticed the nice people whom we had contact with. Whether in the guesthouse, in restaurants, on walks, or in the riverside communities we visit, all are very simple and attentive.
Not everyone speaks English in Alter do Chão but you will be very welcome anyway!
---
If you like this post, check out all our English Posts!