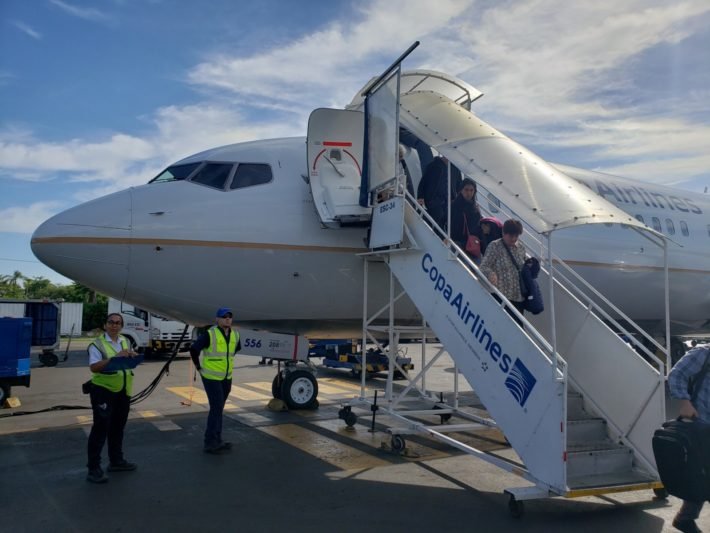 Copa Airlines is an airline headquartered in Panama City and a member of Star Alliance. It's the actual Pan American airline as it connects countless destinations in South, Central, and North America and also the Caribbean. The capillarity of the company on the American continent is impressive. Copa Airlines' hub is Tocumen International Airport (PTY), which serves Panama City, and deserves the title of Hub of the Americas.
Recently, I traveled between Cartagena (CTG) and Brasilia (BSB) in Copa Airlines business class, connecting in Panama City (PTY). I report below my experience. Check out!
Purchasing the ticket
When searching for flights on Copa Airlines' website, you will see a table, with different flights in rows and different fares, in the economy, and business classes in columns. There are two rates for Business Class (Promo and Full). Select the desired flight and fare.
#Hint
Sometimes, you find fares in 'Business Promo' (Executiva Promo) slightly higher than or even lower than those of the economy class(see figure above). In this case, paying a little extra is worth it!
On round-trip tickets, you can purchase one leg in economy class and the other one in business class.
That's what I did. In this last leg, the difference between the fare was only R$100 (about 18 USD in today's currency exchange rate).
Bid Upgrades
Another option to fly executive on Copa Airlines is to buy the ticket in economy class and participate in auctions of Business Class seats.
If your flight is eligible and seats are available, you'll receive an email with the opportunity to make an offer. You enter the amount you are willing to pay for a particular flight segment, fill in the payment information, and confirm the offer.
"You will be notified if you have upgraded between 48 and 12 hours before the flight leaves. Your credit card will not be charged if you don't get the upgrade. Each leg of your trip is evaluated individually and upgrades are granted according to the availability and the evaluation of the offers received for each leg. "
If you are going to participate in an auction, the tip is always to make the minimum bid, as this is usually a considerable amount.
For some shorter duration legs, there is the Instant Upgrade. In this case, a fixed fare is established by the airline, but you instantly get upgraded.
Flights and Aircrafts
The flight CM 687, between Cartagena (CTG) and Panama (PTY), lasts 1h20 and is operated by Boeing 737-800B, a single-aisle aircraft (narrow-body). In Business Class, there are 16 seats in 4 rows, in the 2-2 seat configuration.
On this flight, I noticed that the pitch (distance between the seats) is longer (48 inches) and that the aircraft had an entertainment system available to passengers. The recline could reach 28°. Excellent for those who want to rest.
The seats also had power outlets. I took the opportunity to charge my notebook.
The flight CM 204, between Panama (PTY) and Brasilia (BSB), lasted approximately 6 hours and is operated by Boeing 737-800A. The business class seat configuration is identical to the first flight, but the model is inferior.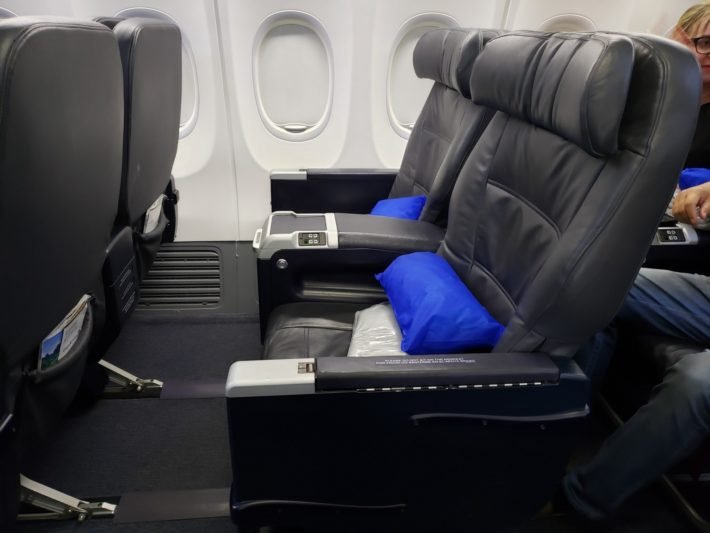 There was no entertainment system and the pitch was shorter (38 inches). Also, the seat inclination reaches only 15°. Besides, there was no power outlet.
Unfortunately, Copa Airlines uses for medium-haul flights (such as to Brasília) an aircraft model inferior to that one used for short-haul flights (such as to Cartagena).
However, it is worth noting that, in either model, the seats are comfortable for flying 6 or 8 hours.
Note: the two times I took the flight from Brasília (BSB) to Panama City (PTY), I found that the aircraft used by Copa Airlines was also inferior to that one used on the Guarulhos (GRU) – Panama (PTY) route.
Copa Airlines Business Class Benefits
Flying the executive on Copa Airlines has several benefits. I evaluate each one below.
1. Check-in Priority
At Cartagena Airport (CTG) there was an exclusive check-in queue for Business Class passengers or Star Alliance elite customers. However, even the economy line was not long.
2. Vip Lounge Free Entrance
There's no Copa Airlines VIP Lounge in Cartagena, Colombia, only at the Airport in Panama. As my connection was short, only 20 minutes between the arrival of the first flight and the departure time of the second, I didn't visit the Lounge.
PTY airport was also very crowded. My first concern was finding the departure lounge for my second flight (PTY-BSB).
I used my limited time at the airport to shop. A bottle of Montes Alpha Chilean wine, which in Brazil costs R$166, in duty-free went for US$ 19. At that time, it cost less than half the price. Check product prices on the Attenza Duty Free website, one of the airport's stores.
Later, I asked some passengers who told me the Lounge in Panama Airport is good but very crowded.
3. Boarding Priority
Business Class passengers or Star Alliance elite customers also have boarding priority. In my case, it allowed fast boarding both in Cartagena (CTG) and in Panama City (PTY).
4. More comfortable seats than the economy class
See the comment above.
5. Amenity Kit
During the flight, an Amenity kit provided has amenities such as toothbrush, toothpaste, eye patch, etc. It's simple compared to traditional airlines, but compatible with medium-term flights.
6. Special Onboard Service
In my opinion, one of the main pros of flying business class is the on-board service. Very good for medium flights. In the first flight, a shorter one, a delicious vegetable omelet was served.
In the second flight, two meals were served: dinner, at the beginning of the flight, and a 'Merienda' (snack), at the end of the flight.
For dinner, we have roasted almonds as an appetizer.
The starter was a vegetable cream, green salad, and bread.
As a main dish, there were two options: a fillet medallion accompanied by 'flan de maiz' or a fish fillet with green pea sauce. I decided on the first option.
For dessert, they served chocolate cake and cheesecake.
To drink, there was a good selection of wines, white or red, and other alcoholic beverages: whisky, rum, vodka, and beers. I drank a Chilean wine Concha y Toro Gran Reserva Riberas. Great!
Merienda, in turn, was a sandwich with salmon, cream cheese, and caramelized onions.
7. Points or Miles
When flying Business Class, the number of points (or miles) you get in frequent-flyer programs is usually higher than in Economy Class. In ConnectMiles, Copa Airlines' loyalty program, the award miles for 'Executive Promo' are 150% of the base value, while in the Economy, they range from 50 to 125%.
In my case, I chose to put my points on LifeMiles. I got 2,759 points for the PTY-BSB flight in Business Class, which was higher than the 2,069 points got from the BSB-PTY flight (in Economy Class).
8. Checked Baggage Allowance
In Business Class, the baggage allowance is bigger than in economy class: 2 checked bags up to 64kg.
If you purchase a ticket in 'Economy Promo' or 'Classic' fares, you'll have to pay USD 40 to check the second bag. Only in 'Full Economy' fare, the franchise includes the second bag.
General Review
Copa Airlines' Business-Class can be an excellent option if the difference between the economy and business fares is very small.
Even considering the inferior model of the aircraft used on flights to Brasília, I found the seats quite comfortable. The onboard service was also very good.
For medium-haul flights, I rate the experience as a good one.
---
If you like this article, don't forget to check all our English posts.