I always say to my foreign friends that 'Brazil isn't just Rio de Janeiro'. In fact, we have a lot of other tourist destinations that aren't so famous abroad. Florianópolis, on the southern coast of the country, is one of them. It's one of the best places to live in Brazil and also a nice and safe place to visit.
Floripa, as we informally call it, is the capital of the State of Santa Catarina. The municipality comprises of two parts: the insular portion and the continental portion. The Insular portion is the biggest part of Florianópolis and it's called Santa Catarina Island. It's huge! The island is 54 km (33.5 miles) long and 18 km (11.2 miles) wide and encompasses about 60 incredible beaches. In the continental portion, there are also beaches, but they are not so famous as the insular ones.
Today, we're going to explore the southern coast of Santa Catarina Island, a beautiful, quiet and enchanting region. There are beautiful beaches, islands, lagoons, and trails where you get in direct contact with nature and enjoy the delicious cuisine of the 'manezinhos', as we call the local people.
In this post, you'll find a perfect 1-day itinerary for you to enjoy the southern coast of Floripa. The itinerary was tested (and approved) on our last visit to the city. It's perfect for those staying in the Campeche neighborhood, but if you're staying in another region, just make small adaptations.
We used Uber to get around the Island. It's a good and cheap way to get to the points of interest. The service availability is good, and we didn't have to wait long for the vehicle to arrive. Also, there's not much traffic on this route.
We begin our journey at Campeche Beach. Check it out!
1. Campeche Beach
Campeche beach (Praia do Campeche) is the largest beach in extension on the southern coast of Florianópolis. Situated in a neighborhood of the same name, the beach is located between the famous Joaquina beach and Morro das Pedras beach. It's an oceanic beach (in Floripa, there are also beaches facing the mainland) with icy waters and, sometimes, strong waves.
The beach name comes from a tree called "Campeche" or "Pau de Campeche" widely found in that region during colonization times. A dye was extracted from the wood.
Despite attracting many tourists, Campeche beach isn't very crowded. Along the beach, there are few tents and restaurants, which makes it a more rustic and familiar place. However, you will find many restaurants and bars along Pequeno Príncipe Avenue, which is the main access to Campeche beach.
The Campeche neighborhood itself is also a somewhat simple and rustic place that reminds me Ubatuba, a coastal city in the State of São Paulo, in the 1980s. I sincerely hope Floripa keeps this way!
Campeche is an excellent accommodation region for those visiting Florianópolis. Besides allowing you to make this itinerary, it has easy access to Florianópolis International Airport – Hercílio Luz (FLN). After the inauguration of the new terminal, a new road was built and made it even faster to get to Campeche. In 10 to 15 minutes, you will be at your hotel or hostel.
By the way, aircrafts heading to FLN airport fly over Campeche Beach.
Among the points of interest in the Campeche region, we can cite Riozinho, Novo Campeche, Lagoinha Pequena and Ilha do Campeche.
Campeche Island
If you have a free day, it's worth visiting the Campeche Island (Ilha do Campeche), a beautiful island with calm and transparent waters just in front of Campeche Beach. It is not without reason that the place is known as 'Santa Catarina Caribe'. The island was considered Cultural and Landscape Heritage in 2000.
The fastest way to get there is from Campeche beach itself. The journey takes 5 to 10 minutes. It costs between R$ 80 (about 15 USD) and R$120 (about 22 USD), depending on whether we're in low or high season, respectively.
The tours take place daily in high season (December – March) and may not occur every day during the low season. The number of visitors is limited per day. Payment for transportation is made in cash. Our recommendation is to hire a travel agency to guarantee your visit.
2. Armação Beach
From Praia do Campeche we went south on the SC-406 highway to Praia da Armação. The journey is 9 km and lasts around 16 minutes. The estimated Uber ride cost is R$ 13.50 (2.50 USD).
Armação Beach (Praia da Armação) is also an oceanic beach but with calm waters. It's one of the main artisanal fishing sites on Santa Catarina Island. The atmosphere is simple, rustic, but pleasant. I especially liked to contemplate the landscape with several boats anchored in the sea.
However, the sand strip is narrow and there are several constructions on the shore, preventing direct access by those who come from the street. Many people usually get to the beach through the Fishermen's Association which is at the southern end of the beach.
The place doesn't have much infrastructure but you can find simple bars and restaurants there. You can also rent some beach chairs.
In Armação, it's worth visiting the beach viewpoint to appreciate the scenery and also visiting the Santana Parish.
3. Campaign Island
At the southern end of Armação Beach, a wooden bridge over stones gives access to Campaign Island (Ilha das Campanhas). Also called 'Ponta das Campanhas', it is a small island with a shape similar to that of a peninsula.
It's also a nice place for contemplation, especially if you are at the pier (pier) where fishermen's boats usually dock.
In 15 minutes, you can walk the entire island. But I'd rather sit under a tree and enjoy that wonderful panorama.
Around the island, rock formations create natural pools. From the highest part of the island, you can have a beautiful view of the beaches of Armação and Matadeiro.
4. Matadeiro Beach
Crossing the creek near the wooden bridge, a trail leads to Matadeiro Beach (Praia do Matadeiro), one of the tourists' favorites. It is the third-best activity in Florianópolis according to Tripadvisor. The place is perfect for those who want to enjoy nature with tranquility.
If you don't want to get your feet wet, that's fine. There is a walkway that crosses the stream, but it's a little further from the beach.
Walking the trail takes 5 to 10 minutes. The trail is cemented and, in some sections, quite steep. However, in the higher parts, you will be surprised by the beautiful look. Get on a rock and take lots of pictures!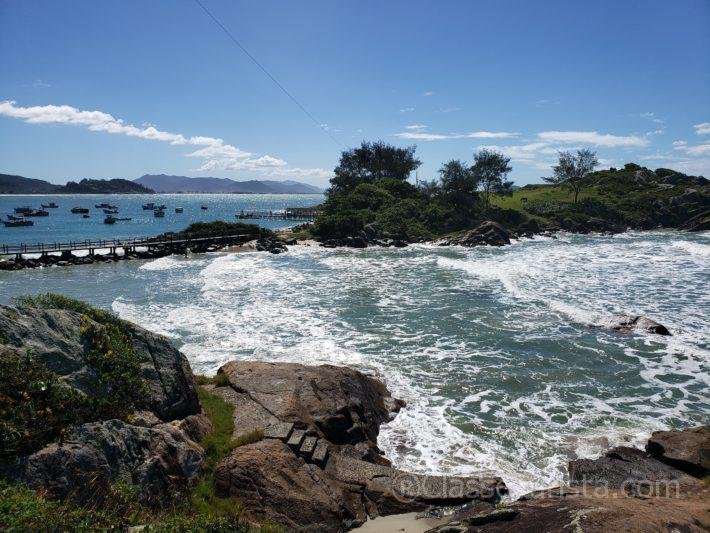 At Matadeiro beach, the sea is also icy and the waves are stronger. Therefore, it is also very frequented by surfers. There are kiosks on the beach, among which, the Borinelli Bar and Restaurant and the Mergulhão. I took the opportunity to have a beer!
Where do the names Matadeiro and Armação come from? The names originate from the time whaling was allowed in Florianópolis in colonization times. In Armação (in Portuguese, 'armar' means to arm/set/pinch), boats set up an ambush (trap) for whales that were taken to Matadeiro beach (in Portuguese, 'matar' means to kill), where they were surrounded and killed. From the whale, people used to extract oil, meat, and fat. The oil was used in public lighting.
From Matadeiro beach, you can take a 2-hour hike trail that leads to Lagoinha do Leste Beach. Another trail leads to Falcão Lookout (Mirante do Falcão), but get ready to walk.
5. Arante Bar & Restaurante
From Praia da Armação we went south on the SC-406 highway to Praia do Pântano do Sul, where we had lunch. The journey is 4.5 km and lasts around 8 minutes. The estimated Uber ride cost is R$ 8.00 (1.50 USD).
Arante Bar & Restaurante is a restaurant specializing in seafood, at Praia do Pântano do Sul. It is a very traditional restaurant among the island's residents. The atmosphere is simple, but the food is good. Besides, it overlooks the beach.
Arante Bar was an old stop for travelers. Far from Florianópolis city center, the place was also used as a lodging for travelers to follow their route the next day. Mr. Arante founded the bar in 1958.
We tasted delicious fish with shrimp sauce and I took the opportunity to have another beer. The dishes are well served. They serve up to 4 people.
A main characteristic of the restaurant is that the walls are filled with little notes left by customers. There are many messages written in many languages. It is impossible to read them all!
6. Pântano do Sul Beach
After lunch, we went for a walk at 'Praia do Pântano do Sul'. We're in the extreme south of Florianópolis.
The beach isn't that beautiful, but it is pleasant to take a walk. It is rustic, quiet, and also a stronghold of fishermen. In fact, we also see many fishing boats anchored at sea. There is virtually no traffic in the neighborhood.
Besides Arante Bar, you can also find other restaurants and bar there and, on the beach, there were also some stalls for handicrafts and jewelry.
If you continue to walk, we will get to Açores Beach (Praia dos Açores) and Praia da Solidão (lit. Loneliness Beach). Something tells me it's a very quiet beach!
7. Peri Lagoon
From Praia do Pântano do Sul we went north, returning by highway SC-406 to Peri Lagoon. The journey is 5.8 km and lasts around 11 minutes. The estimated Uber ride cost ranges from  R$ 12 to R$ 14 (from 2.23 to 2.60 USD).
Peri Lagoon (Lagoa do Peri) is a 5.2 km2 freshwater lagoon with a depth of up to 11 meters. Considered Natural Heritage (1976), today it is a Municipal Park surrounded by an immense area of Atlantic Forest.
Besides bathing on freshwater beaches, the park is ideal for picnics, kayaking, or ecological hikes. It has some infrastructure, but it is good to bring your own food. The atmosphere is familiar.
The municipal park is open from 8 am to 6 pm.
Morro das Pedras Lookout
If you want to extend your tour a little further, you can go to the Morro das Pedras viewpoint, which is 3 km north, on the SC-406 highway, going up a slope. From there, you enjoy an incredible view of Praia do Caldeirão.
8. Back to our Guesthouse in Campeche
From Peri Lagoon we head north to our Guesthouse in Campeche. The journey is 9 km and lasts around 10 minutes. The estimated Uber ride cost ranges from R$14 to R$16 (2.60 to 3.00 USD). Now it's time to rest!
9. Pizzarium Pizza Artesanal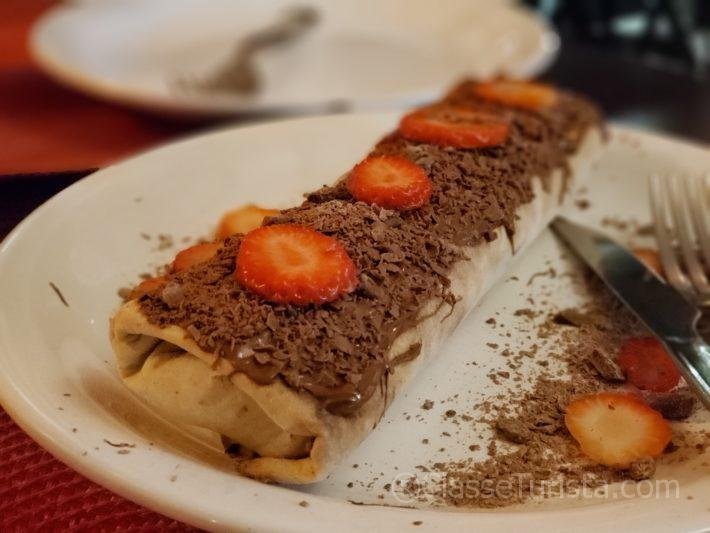 Then, at night, we went to Pizzarium Pizza Artesanal, on Pequeno Príncipe Avenue, in the Campeche neighborhood. The pizzeria was very close to our Guesthouse. It was the second time that we ate there.
The pizza was very good, so was the service. The value for money is excellent. But, what I liked most was the wine prices. Some are even cheaper than in the supermarket.
Both Mr. Danilo, the owner, and the attendant were very friendly and helpful. It was he who the day before gave us the tips for this tour on the southern coast of Florianópolis.
I hope you've enjoyed our itinerary (or Mr. Danilo's one). Don't forget to check out our other English Posts!