Namibia first caught our attention in 2011, when we were traveling in South Africa. We met a Portuguese couple who shared some great tips about Cape Town and also recommended visiting two neighboring countries: Namibia and Botswana. They said both were amazing places to see!
The next year, we met a German couple who had just returned from a comprehensive multi-day tour around Namibia and raved about it.
Still, we didn't put Namibia high on our travel bucket list. After all, there were other countries that we wanted to visit more.
It was only after watching a Brazilian play called 'Namibia, No!' that the country stuck in our minds and we started to consider it for our future trips. The play was a humorous fiction that won a Young Literature Award and has been performed in several countries. It was also adapted into a dystopian movie in 2020 named 'Executive Order'.
---
Synopsis of the Play: The Brazilian Government issued a decree that all citizens with 'high melanin' should be captured and deported to Africa as reparation for the 4 centuries of slavery. However, black citizens could only be captured on the street. As a result, the two cousins André and Antônio spent the day locked up in an apartment, debating various social issues, their fears, and the implications of a possible return to Africa. Anyone caught would receive a catalog of countries to choose from. Wondering about it, the cousins exclaimed 'Namibia, No!' After all, it seemed like a weird country 'where people speak German'.
---
In 2019, we finally made it to Namibia. It was an incredible, unforgettable experience in a destination that is not very popular among many world travelers. We definitely want to go back! And unlike the play, I would say: 'Namibia, yes!'
Below, you'll find the top 12 reasons why you should visit Namibia! Check them out!
1. Amazing Natural Landscapes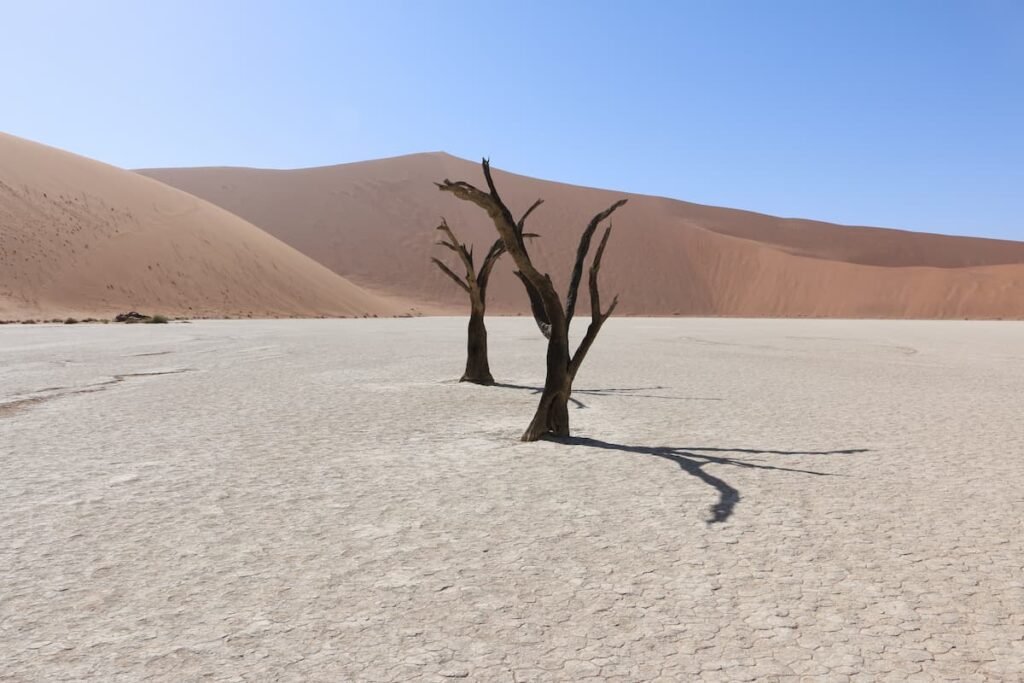 A white valley, centennial trees that have yet to decay, red-orange gigantic dunes, and a bright blue sky – is this cinematic? Absolutely! Prepare to be amazed by one of the most breathtaking landscapes you'll ever encounter, located in Namibia – the place known as Sossusvlei, situated in the southern part of the Namib Desert.
Conserve your energy for the ascent of 'Big Daddy' [featured photo], a 380-meter high dune, considered the largest in the world.
Once you've reached the top, take a moment to rest, capture numerous photos, and then glide down until you find yourself in the limestone valley known as Deadvlei, where ancient trees stand petrified, maintaining their structure thanks to the arid climate. 
As the day draws to a close, visitors at Dune 45 are treated to an awe-inspiring sunset – a mesmerizing blend of yellow, red, and orange hues, emanating from both the dune and the sun. 
Unfortunately, we only had the chance to experience Dune 45 during the day. However, at night, from the comfort of your lodge, you can marvel at the spectacular starry sky, so enchanting that you'll be hesitant to retreat to your room. Even in the Atacama, we didn't witness such darkness adorned with countless tiny, twinkling lights. This magical display is complemented by an eerie silence, allowing only the sound of our hearts reveling in this unforgettable experience.
Holders of ordinary passports issued by 55 countries can enter Namibia without a visa, allowing for a maximum stay of 3 months within one calendar year. The visa exemption includes most European countries, the USA, Canada, Australia, Japan, and Brazil.
Additionally, citizens of 42 other countries and territories can obtain a visa on arrival at Windhoek Airport (WDH), also allowing a maximum stay of 3 months, though fees apply for this visa. For example, citizens of Turkey, South Korea, Mexico, and Singapore can obtain the visa directly at the airport of entry.
In my opinion, the visa waiver serves as an important invitation for you to visit the country. It eliminates the need for extra bureaucracy for tourists and saves them from having to pay consular fees.
For further information, please contact the nearest Namibian Embassy or Consulate.
Most visitors to Namibia arrive by air, with the majority flying via Johannesburg (JNB) in South Africa. This is because the only direct flight to Namibia from Europe is from Frankfurt, Germany, and there are no direct flights from either North America or Australasia.
However, in most cases, it's easy to get there. Reaching Namibia requires just one flight connection. You can opt for flight connections through other cities such as Luanda (Angola) and Addis Ababa (Ethiopia) by flying with their flagship airlines.
If you choose to fly to Namibia via Johannesburg in South Africa, you can take flights with South African Airlink.
Namibia's main airports are Hosea Kutako International Airport (WDH), which serves Windhoek, the country's capital, and Walvis Bay International Airport (WVB), located on the coast.
4. English is widely spoken
In Namibia, almost everyone speaks English, making your trip much easier. Although English is not the mother tongue of most inhabitants, it is the official language of the country and is mandatory in schools. As a result, all signage, menus, forms, and documents are in English.
In addition to English, Namibia has several regional (semi-official) languages, such as Oshiwambo, Nama/Damara, Afrikaans, Kavango, and Herero. German is spoken by a white minority of German descent, reflecting the country's colonial history.
Generally, you will encounter English speakers throughout the country. However, in rural areas, it's possible to come across individuals who do not speak English fluently.
5. Namibia doesn't suffer from overtourism
One of the great advantages of visiting Namibia is that the country is not on the main global travel itineraries and, therefore, does not suffer from overtourism.
Overtourism directly affects the quality of life in a destination and can even destroy the local environment and historical heritage. It's not just the local residents who are disturbed; tourists also have their experiences compromised. Those who have visited the Louvre Museum in Paris or Casa Batlló in Barcelona know what I'm talking about.
Namibia, on the other hand, is a country with one of the lowest population densities in the world. It has only 2.5 million inhabitants (2019) spread across 825,000 km² of land, which means it covers 1/10 of the area and has 1/100 of the population compared to Brazil.
If you dislike crowds, Namibia is the perfect destination for you. In most parts of the country, you will feel like it's just you and your fellow travelers appreciating the stunning landscapes and wildlife.
However, things can change over time. So, it's best to visit as soon as possible!
Throughout the 20th century, the territory currently known as Namibia (at that time referred to as South-West Africa) was marked by struggles, wars, revolts, and even genocide, which was perpetrated by the German Empire.
However, since gaining independence in 1990, Namibia has transformed into a politically stable country with a democratic, constitutional, and parliamentary regime. As a result, episodes of civil unrest or political violence are not expected.
As for ordinary crime, the most common offenses in Namibia are non-violent, such as theft or pickpocketing. Nevertheless, walking around the streets of Windhoek, for instance, one generally feels secure, a rare feature in many capitals worldwide.
In any case, it remains important to exercise caution concerning personal belongings and money, while also avoiding ostentatious displays of wealth.
7. Visit at any time of the year
In Namibia, there are essentially two seasons: summer, which lasts from November to April, and winter, from May to October. Summer is the rainy season, but the rainfall is mainly concentrated in non-desert areas, particularly in the north and northeast regions of the country. These are typically short and intense storms that commonly occur in the afternoon. In contrast, winter remains dry across the entire country.
With over 300 days of sunshine per year, Namibia is a year-round destination, especially the coastal and desert regions.
During the rainy season, visitors may encounter some challenges when exploring the northern region, particularly when visiting Etosha National Park. However, such inconveniences generally do not significantly disrupt travel plans.
Nevertheless, the optimal time to visit Etosha is during the driest winter months, which are July and August. During this period, water sources become scarce, leading animals to congregate around the remaining waterholes [see photo above], making it easier to observe and photograph them (source: WayfairerTravel).
We've already mentioned the breathtaking landscapes, but witnessing wildlife in its natural habitat within that arid environment is truly beyond words.
Etosha National Park stands as one of Africa's largest nature reserves, covering over 22 thousand square kilometers and hosting a myriad of animals, such as gazelles, giraffes, zebras, cheetahs, and hyenas. And, of course, it is home to the renowned Big Five: leopard, elephant, rhinoceros, lion, and buffalo.
One can park near a waterhole and patiently wait to discover which animal will come next to quench its thirst. A friend once had the remarkable opportunity to photograph a lion with its mane stained by blood after a recent meal. It might be shocking, but it exemplifies the rawness of wildlife.
Etosha National Park is often compared to the famous Kruger Park in South Africa. Although Etosha may be a little more challenging to access, its lower tourist numbers and captivating desert landscapes have made it a favorite among visitors.
For those who choose to explore the Namibian desert exclusively, they will still have the chance to encounter some animals while driving along the roads. In Solitaire, we visited a sanctuary where rescued cheetahs reside, unable to return to the wild due to injuries or because they haven't learned to fend for themselves (many of them being recent rescues).
Namibia is truly a paradise for bird enthusiasts as well, boasting more than 700 bird species, including ostriches, penguins, and pelicans.
9. Tours for all tastes and budgets
In Namibia, you will find tours catering to all tastes and budgets. There are guided tours as well as self-driving options. You can choose from short or long tours of varying durations, ranging from day trips to 14-day excursions. Accommodation options include campsites or lodges, and you can opt for air or land tours.
Moreover, there are tours specifically designed for discovering the stunning natural landscapes, others focused on wildlife encounters, and also tours aimed at delving into the local history and culture of the population. Whatever your interests and preferences, Namibia offers a diverse array of tour experiences to suit every traveler.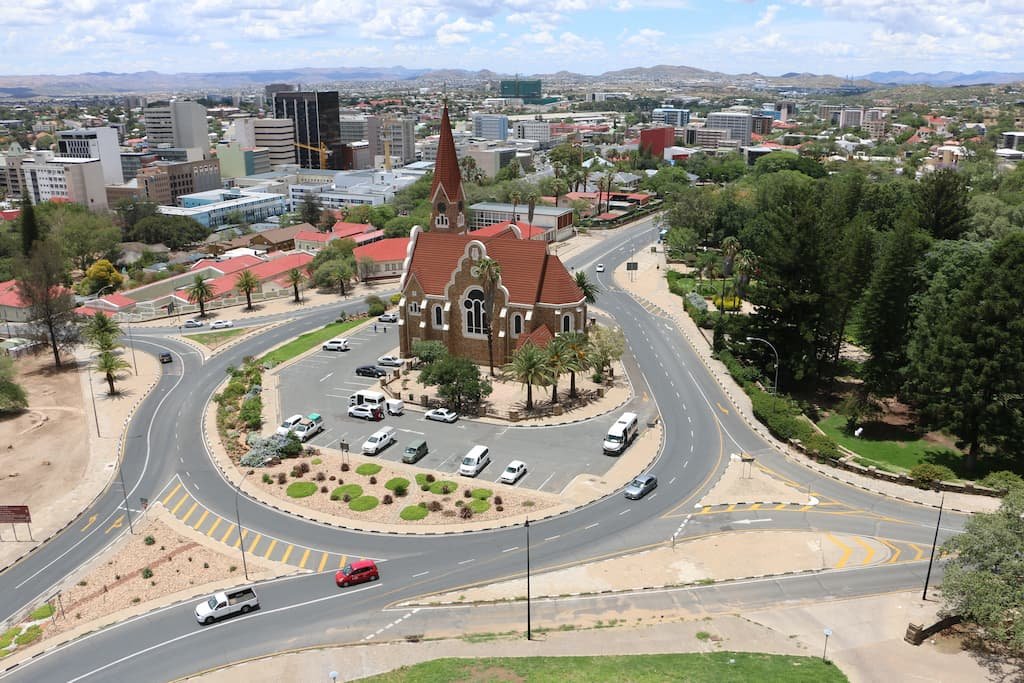 Upon arriving in Namibia, a Head of State once remarked:
"Those who arrive in Windhoek don't feel like they're in an African country. Few cities in the world are as clean, architecturally beautiful, and populated by such extraordinary people as this city."
From a diplomatic perspective, the statement might be considered a faux pas, yet it reflects the impression that the average American or European often has when visiting large cities in Namibia, such as Windhoek and Swakopmund.
At least in the central region, everything appears remarkably clean and well-organized. Modern buildings and stunning landscaping create a striking contrast with the region's arid climate.
Visiting Namibia offers a unique opportunity to delve into the often-overlooked history of diverse peoples and their colonization. The land was once inhabited by various nomadic tribes, including the Nama, Herero, Ovambo, and Himbas, before witnessing the arrival of European powers like the Portuguese, Dutch, English, Germans, and later the South Africans.
Before gaining its independence in 1990, Namibia was known as South-West Africa. The name "Namibia" likely originated from the Namibe Desert, stretching along the coast from southern Angola to northern South Africa, with "Namibe" meaning "wide place."
From 1883 until the end of World War I, Namibia endured colonization under the German Empire (Second Reich). Few people are aware that during this period, the ideological foundations of Nazism began to emerge. In 1904, a rebellion by the local peoples (Herero and Nama) led to conflicts with the Germans, culminating in the first genocide of the 20th century. Tragically, an estimated 10,000 Namas (50% of their population) and 65,000 Hereros (out of a total of 80,000) perished due to the actions of the Germans.
During the initial phase, many died from hunger and dehydration. Some Herero sought refuge in a dry region known as Omaheke. In response, German forces guarded all water sources and were instructed to shoot any Herero they encountered. Furthermore, some water wells were poisoned by the Germans (source: Wikipedia).
In the second phase, Herero and Nama prisoners were transported to concentration camps situated in Lüderitz, Swakopmund, Ojahandja, Windhoek, and Karibib. The most infamous of these camps was located on Shark Island in Lüderitz, which also served as an extermination camp (source: Wikipedia).
The transportation of prisoners to these concentration camps occurred in cattle trains, reminiscent of the methods used during the Nazi period. Prisoners were assigned numbers and subjected to enslavement. Interestingly, many of Swakopmund's buildings were constructed using the labor of enslaved prisoners.
Within these concentration camps, prisoners endured various medical experiments, and so-called "scientific" theories of Aryan racial superiority were put to the test.
Eugen Fischer was among the "racial scientists" who arrived in Namibia to conduct research on prisoners and the skulls of the deceased. Several skulls of the Herero and Nama people were taken to Germany for study. Tragically, Fischer's ideas later served to justify the Nazi Party's beliefs of racial superiority over Jews.
Since 2011, Germany has repatriated the skulls of the victims taken for "racial studies" back to Namibia. Only recently, on May 28, 2021, did Germany officially acknowledge and apologize for committing genocide in Namibia. In recognition of the atrocities, Germany offered a €1.1 billion program for the country's reconstruction and development (source: Deutsche Welle).
12. Meet Interesting People
Namibia often attracts experienced travelers as a preferred tourist destination. However, this does not imply that those who have limited international travel experience won't be captivated by this country.
In truth, you will encounter a multitude of intriguing individuals along your journey, particularly if you opt for a well-organized tour (which I highly recommend!). These fellow travelers come from diverse countries, spanning various age groups, and boasting distinct backgrounds. Together, you will share many moments, enabling the exchange of numerous life experiences. These are individuals with open minds and a broader worldview.
For us, this personal interaction turned out to be the most significant aspect of our trip to Namibia. Building connections with such diverse and interesting people enhanced our overall experience and left a lasting impact on our journey.
What about the shortcomings?
I always maintain that there is no such thing as a perfect tourist destination, and Namibia is no exception to this reality. However, I must confess that a few things bothered me during the trip, but they were not significant enough to deter me from considering a return.
Firstly, the structure and service at the Hosea Kutako International Airport (WDH) in Windhoek were subpar, with a few issues I encountered:
the immigration procedure was slow and time-consuming,
currency exchange offices were unexpectedly closed, causing inconvenience for travelers,
finding a taxi proved to be quite challenging and frustrating.
To address these concerns, I strongly recommend bringing your credit or debit card to withdraw money from ATMs, and it would be wise to book your transfer in advance.
Another option is to carry South African Rands, which are accepted in Namibia (1 Rand = 1 Namibian dollar). This alternative can be particularly beneficial if your travel itinerary includes South Africa.
Secondly, I noticed that navigating Windhoek on your own can be difficult. The city lacks a robust public transport system, and options are limited to private or shared taxis. Consequently, for longer distances, including trips to and from the airport, you will need to call a taxi and be prepared to wait for it.
Despite these minor inconveniences, Namibia's allure remains intact, and I would still encourage travelers to experience this captivating destination. Proper planning and awareness of the transportation and currency options will help ensure a smoother and more enjoyable journey.
Lastly, let's take note of some important observations about Namibia. These points are not negative, but rather crucial facts that tourists should be aware of before planning their visit.
Namibia is not a budget-friendly destination, but it also differs from the cost of traveling to most American and European locations. In cities like Windhoek or Swakopmund, you can find comfortable hotels and inns with rates ranging between US$ 70 to $140. For example, the Hilton Hotel in Windhoek offers rates of approximately US$ 175 for two people, including breakfast. Additionally, a 3-day tour with shared accommodation starts at 631 Euros per person, with some meals included.
While Namibia may not be synonymous with a gastronomic paradise, it does offer delightful culinary experiences. Although you'll find good restaurants, especially in larger cities, the true charm lies in the simplicity of the food, often prepared by your guide during tours, which can pleasantly astonish you. Embrace this aspect as an integral part of your experience and savor the unique culinary offerings the country presents during your adventurous journey.