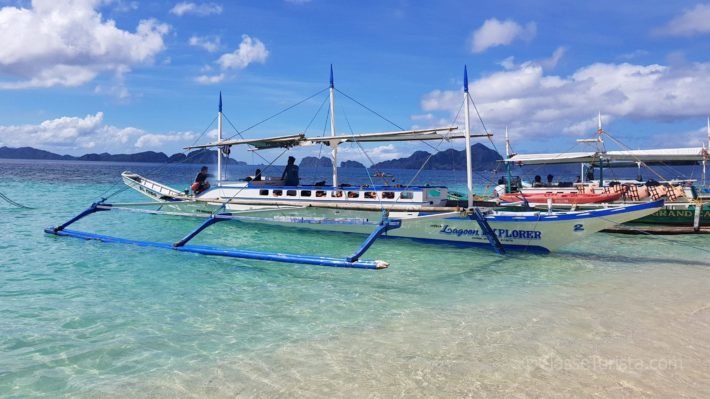 El Nido, in Palawan Island, is a pathway to paradise islands and beaches in the Philippines. It lives up to the motto: the paradise is here! In fact, El Nido is a terrific place for kayaking, diving, and snorkeling. Its crystal clear water beaches and its beautiful lagoons make any tourist not want to leave this incredible destination.
Despite being a wide-area municipality (923 km²) just around 41,000 people live there (2015). There is a small village (Población) where most of the tourists and residents gather. There you can find shops, restaurants, supermarkets, travel agencies and many hotels.
I went to El Nido in December 2017 and I am going to tell you all about this incredible tourist destination that is gradually being discovered by western tourists. It is definitely a place I want to go back to!
Best time to visit El Nido
The rainy season runs from May to November. At that time, it's not recommended to visit El Nido, despite accommodation prices significantly slump. Just to give you an idea, in February 2017, it rained 21.5 mm in El Nido, there were 11 rainy days. In October 2017, precipitation was 624 mm and there were 28 rainy days. During the rainy season, the sea gets more agitated and some unpaved roads may be impaired. Check it out here!
It is recommended to visit El Nido between January and April, the driest season, with temperatures ranging between 27 and 31°C. It is also the peak season and tourists from all over the world meet there.
Typhoons, which are very common in the Philippines, are rare in Palawan Island.
How to Get to El Nido?
The most convenient option to get to El Nido is by airplane, via El Nido Airport (ENI), located about 4 km away from the downtown. The airport is operated exclusively by Air Swift, an airline which is also the airport owner. There are flights to El Nido from Cebu, Manila, Clark, and Caticlan.
From Manila, the flight departs from Terminal 4, which is a little disorganized. Due to a flight delay, Air Swift offered us a snack before the departure. However, the flight to El Nido was a smooth one, operated by an ATR 42 with 50 seats. It lasted about 1h 20 min. The ticket, on the other hand, is not cheap. It costed 7,820 PHP (about 158 USD).
Hint: Check-in online cannot be done on Air Swift's website. So, it's better to get to the airport at least 2 hours before departure.
Another option is to fly to Puerto Princesa (PPS) in Palawan Island and then take a van or bus to El Nido. However, the road trip lasts 5 to 6 hours and is extremely uncomfortable, as the roads in the Philippines are not so good.
Good News: Since March 2018, Air Swift has been operating flights between El Nido and Puerto Princesa (PPS). There are three flights a week with ATR 42 and the flight duration is 40 min.
From El Nido Airport to the city, you have to take a tricycle. Somewhat tight for two people and their bags. Besides, tricycles hardly manage to climb the slopes of the road. The trip costs around 250 PHP (about 5 USD).
If you want to go by van, more comfortable, you must book in advance with a travel agency. There are no vans available outside the airport. The price of the van trip is 1,000 PHP (about 20 USD).
It is possible to get to El Nido by boat from Coron Island. The Montenegro Shipping Lines company makes this trip in 4h30m.
El Nido's Infrastructure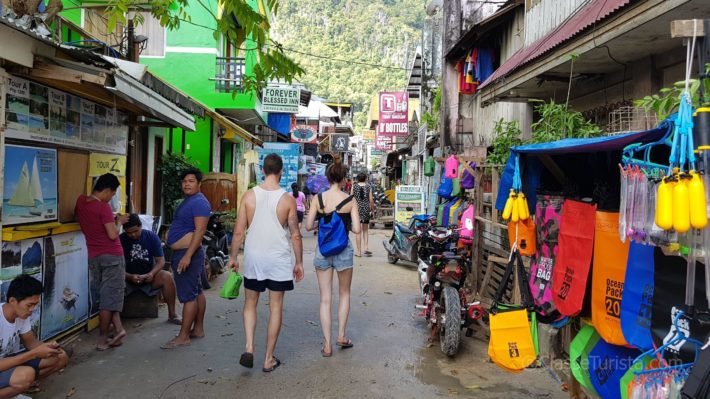 Unfortunately, the village's infrastructure is somewhat precarious. For example, there are no sidewalks, pedestrians and vehicles share the streets as equals, transport is done by tricycles, and the internet is of low quality. Some roads are unpaved.
In the village, the beach is not suitable for swimming, and the buildings get very close to the water, leaving little sand space to walk, especially in high tide.
Where to stay in El Nido?
In El Nido, you can stay in many areas: downtown, in Corong-Corong district, on Caalan Beach, and in the luxury resorts located on many islands.
The luxury resorts are ideal for couples who want to enjoy nature and 5-star service. The most famous luxury ones belong to the El Nido Resorts chain, whose units are located in Palawan and Miniloc, Lagen, and Pangulasian islands.
The Resorts generally offer transportation from El Nido Airport to the island. A con is that the price usually includes only breakfast. The other meals are at your own expense. You can imagine how expensive they must be!
I chose to stay downtown, as I was close to bars, restaurants, shops, travel agencies, etc. In the central region, you will find hostels, guest houses, pensions, and simpler hotels. Don't expect to find 5-star hotels.
I stayed at the Hotel Coral Cliff, a reasonable hotel. Among the pros, location and room stand out. The staff really try to do the best for you. Among the cons, I would mention that credit cards are not accepted, and all your stay must be paid upon check-in.
My hotel's breakfast was also very bad: the coffee was soluble, and they didn't even have butter. I decided to have my breakfast at Café Athena, on Serena Street, a 5-minute walk from the hotel, as for me breakfast is an important meal.
Finally, the hotel's wifi is bad, but that's part of El Nido's lack of infrastructure. Even 3G/4G is not good in the city. Despite these problems, I honestly don't know if there is a better option for staying downtown.
If you want a quieter area, you can stay at Caalan Beach, which is a 20-30 minute walk from the center.
Things to do in El Nido
Island Hopping
There are 4 boat tours in El Nido. These are Island Hopping tours, that is, a series of short routes passing through different islands and beaches. The tours last around 7 hours (9 am to 4 pm) and depart from the central beach of El Nido. They usually include lunch served on one of the beaches or islands.
Tour A (Lagoons)
Tour A is one of the most famous ones, along with tour C. It takes you to see the most beautiful lagoons around Miniloc Island, where you enjoy beautiful crystal waters. In addition, 7 Commando Beach is one of the most pleasant ones.
At Big Lagoon, it is essential to rent a kayak to move around the lagoon.
Tour A's itinerary covers the following places:
7 Commando Beach
Small Lagoon
Big Lagoon
Secret Lagoon
Shimizu Island
Tour B (Sandy Beaches)
Tour B stands out for visiting the sandy beaches. On Snake Island, you can walk the strip of sand as if you were walking through the sea.
Cudugnon Cave is an archaeological site where porcelain from the time of the Sung Dynasty, which ruled China between 960 and 1279, was located.
In this cave, the locals hid from the Japanese during World War II. The Japanese occupied the Philippines between 1942 and 1945.
Tour B's itinerary covers the following places:
Snake Island
Pinagbuyutan Island
Entalula Beach
Caverna Cudugnon
Tour C (Wonderful)
Tour C is one of the most beautiful and interesting tours in El Nido. Hidden Beach is astonishing. Check out the video below.
 

Ver essa foto no Instagram

 
At Secret beach, the boat will park as close to the entrance as possible. You will have to swim and pass through an underwater fence in the rock formations to get to the Secret Beach.
The Matinloc Shrine is beautiful and also gives access to amazing views of the local beaches. An entrance fee of 100 Philippine pesos is required.
Tour C's itinerary covers the following places:
Helicopter Island
Hidden Beach
Secret Beach
Star Beach
Santuário Matinloc
Tour D (Cadlao Island)
Tour D is also an excellent tour for those who want to snorkel or relax on beautiful sandy beaches. However, it is not an essential tour. Do it only if you have time.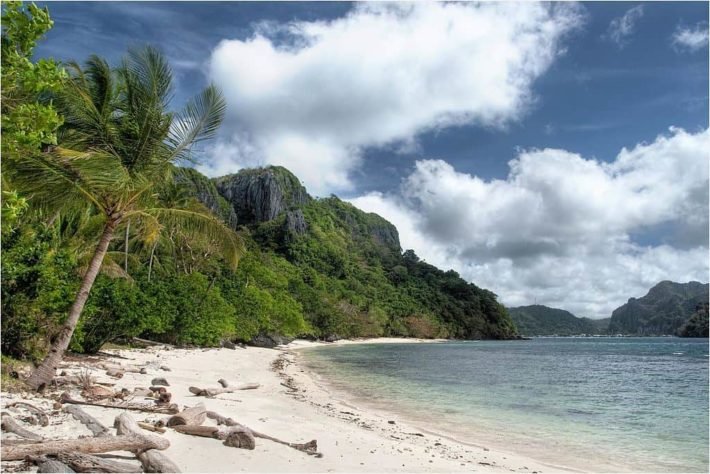 Tour C's itinerary covers the following places:
Ipil Beach
Cadlao Lagoon
Paradise Beach
Nat Nat Beach
Bukal Beach
Beaches
On boat trips, you will certainly visit several beaches. These beaches are not accessible by car, including 7 Commando Beach, which is located in Palawan. Below, I list some beaches where you can get there by land.
Nacpan Beach
Nacpan Beach is a beach located 30 minutes by car from downtown El Nido. Nacpan beach has a long stretch of sand and there are several beach huts.
On the first day in El Nido, as it was not possible to take a boat trip, I went to Nacpan Beach in the afternoon. I stayed near the Nacpan Beach Sunmai Sunset Restaurant. Umbrellas and beach chairs are charged.
There is a shuttle service between the downtown El Nido and Nacpan beach. For a round trip, you have to pay 600 Philippine pesos (per person).
Corong Corong Beach
Corong Corong beach is very close to the center of El Nido. It is about 5 minutes by tricycle.
The beach itself is not all that good, but the sunset is just incredible. There are good restaurants to have lunch or dinner and enjoy the evening.
There are also tours departing from Corong Corong.
Las Cabanas Beach and Marimegmeg Beach
Those beaches are far away from downtown El Nido (20 km). What stands out, too, is the sunset. There are several bars options to spend the day.
Other attractions
Taraw Cliff
It is a cliff where you can climb and hike and have an incredible view of El Nido bay. It is mandatory to climb with a guide. The activity costs around 700 pesos. It is not recommended for children and the elderly.
El Nido Essential Tips
1. How long to stay in El Nido?
Spend 5 or 6 days in El Nido. Take the opportunity to visit, also, Coron Island. There are ferries that connect these locations.
2. Make Private Tours!
You pay more to make private tours, but you spend most of your day in the places you like best. Plus, you avoid the crowds.
Conventional group tours usually delay. For example, if the scheduled time is 8:30 am, the departure will take place only at 9:45 am. It seems that they make you wait on the boat until the seats are all fully booked.
3. Bring Cash!
Both in the city and on tours, you must pay in cash. The credit card is only accepted in a few places.
4. Bring a Waterproof Camera!
Bring your GoPro or another waterproof camera with spare batteries, so you can take lots of pictures.
5. Essential accessories
Bring special shoes for walking on the rocks, sunscreen, and dry-bags. Don't forget to bring water bottles too, as the place is very hot!
6. Which tours are the best ones?
Tours A and C are the most rated, especially C.
7. Breakfast
If having breakfast at your hotel is bad, you can go to Athena Cafe in downtown. There are other places you can have breakfast nearby.
8. Try a Local Beer!
Be sure to try a San Miguel Light beer, a good, refreshing, and cheap beer made in the Philippines.
9. Best Beaches
One of the best beaches was Seven Commandos Beach. I wish I had spent more time there!
10. Restaurants
In downtown El Nido, I recommend the following restaurants: Mezzanine, Altrevo, and Altcafé. If you're staying in the city center, it's just a few minutes walk from your hotel.
I hope this article inspires you to visit El Nido, in the Philippines. As for me, I just think about going back! Paradise is definitely there!