Lisbon is one of the world's most pleasant cities for pedestrians. The Portuguese capital offers its visitors incredible neighborhoods for sightseeing and wandering. Despite having some steep slopes to climb, if you feel in the mood to walk, you will easily enjoy one of the most traditional European metropolia.
In this post, we'll present you Lisbon's main neighborhoods, streets, and regions for you to wander and get lost in Portugal's capital.
Ah, you don't pay anything to walk! If you want to make a budget trip to Lisbon, be sure to read this post!
1. Chiado and Bairro Alto
Chiado is a neighborhood of narrow streets and boardwalks divided into two main areas: Baixa Chiado (lower part) and Bairro Alto (higher part). It was the center of Portuguese romanticism which can be easily seen by tributes to poets and writers such as Almeida Garrett (Rua Garrett) and Fernando Pessoa (Statue).
Fernando Pessoa (1888 – 1935) is considered one of the greatest poets in the Portuguese language. Along his life, he created various heteronyms to write in different literary styles. As a monarchist, he came to Brazil in 1919 after the instauration of the Republican Regime in Portugal (1910). At first, he became famous in Brazil. Just later on he was also recognized as a great poet in Portugal.
The region is also an interesting place to visit at night, where tourists can enjoy several restaurants, cafes, theaters, the Livraria Bertrand (bookstore) and the Armazéns do Chiado shopping mall.
Livraria Bertrand is considered the world's oldest bookstore. Founded in 1732 it was destroyed by the 1755 Lisbon earthquake but was rebuilt later on in 1773. In 2011 the bookstore was finally recognized by Guinness World Records as the oldest operating bookstore. Today, Bertrand is part of a whole nationwide book-chain of 47 other stores throughout the country.
To get to Chiado, you can alight at Baixa Chiado metro station. Take the exit to Largo do Chiado (Chiado Square).
2. Belém
Belém is the district with more tourist attractions than any other in Lisbon.
The tourist can visit:
monuments such as Padrão dos Descobrimentos (Monument to the overseas Discoveries) and Torre de Belém (Belém Tower),
museums such as Presidency of the Republic Museum, Navy Museum, and National Coach Museum,
churches and monasteries such as Jerónimos Monastery and Santa Maria de Belém Church.
And after that, if you get hungry, you can try the Portuguese traditional sweet at Pastelaria Pastéis de Belém.
If you just want to stay outdoors, you can appreciate Belém's beautiful Gardens (picture above) and admire the incredible view of the Tagus River (Rio Tejo) and 25 de Abril Bridge. On the other side of the river, you can also see the Cristo Rei Sanctuary.
I strongly recommend you to spend a whole day in Belém to enjoy everything it has to offer.
To get to Belém, just take a tram number 15 at Cais do Sodré station. By the way, Cais do Sodré is a multi-purpose station where you can take the subway, suburban trains, boats, or trams.
3. Alfama
Alfama is a traditional district in Lisbon. With narrow streets, it's where you find attractions such as the São Jorge Castle, the National Pantheon and the Santa Luzia and Portas do Sol viewpoints. Alfama is also a good district for you to stay in Lisbon.
Since the 13th century, a flea market called Feira da Ladra has been taking place in Alfama on Tuesdays and Saturdays.
Besides, Alfama is where every year the traditional Santo Antônio Festival takes place on the 12th and 13th of June.
At night, if you want to enjoy fado, a traditional Portuguese music genre, there are plenty of fado houses in Alfama.
To get to Alfama, alight at Santa Apolônia subway station, but be prepared to walk uphill …
4. Parque das Nações
Those who visit Lisbon cannot miss the Parque das Nações, located in an eastern area on the banks of the Tagus River (Rio Tejo). It is close to the Vasco da Gama Bridge, which is the longest bridge in Europe.
Parque das Nações was built for Expo 1998 which took place in Lisbon. Its architecture and modern buildings contrast with the Old Lisbon neighborhoods such as Alfama, Belém, and Chiado.
In this region, tourists can enjoy several attractions such as the Vasco da Gama Shopping Center, the Cable Car, the Lisbon Oceanarium, and the Pavilhão do Conhecimento (Pavilion of Knowledge).
To get to Parque das Nações, alight at Oriente metro station. Just cross the street and you can get there by crossing Vasco da Gama Shopping Mall.
5. Avenida da Liberdade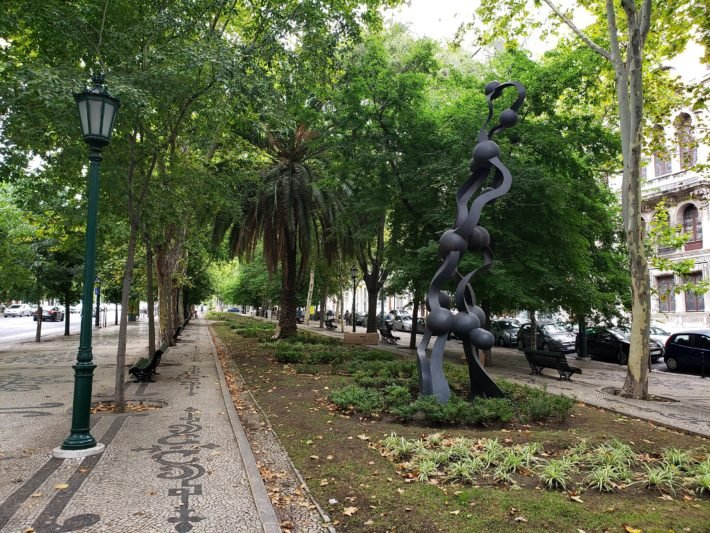 Avenida da Liberdade is the most important avenue in Lisbon. It looks like the Champs Elisées of the Portuguese capital.
It connects Marques de Pombal Square (upper part), next to Eduardo VII Park, to Restauradores Square (lower part). It is very pleasant to walk along this wooded and pedestrian-friendly avenue. There are many fancy hotels and shops on this avenue.
But there are also traditional Portuguese bakeries on the Avenue. I strongly recommend you to try Prego no Pão (bread with meat) at Leitaria Baiana Pastelaria.
To get to Avenida da Liberdade, you can just alight at Avenida metro station.
6. Rua Augusta/Praça do Comércio
Rua Augusta (Augusta Street) is a very famous pedestrian street situated in a lower part of Lisbon (Pombaline Downtown). It begins at Praça do Comércio and goes to Rossio Square. It is full of shops, restaurants, and cafes. There are also many street vendors and artists.
It is worth taking a tour of the region. To get to Rua Augusta, you can alight at Rossio or Baixa Chiado metro stations.
Praça do Comércio is a huge square situated next to the Tagus River (Rio Tejo). It's located at one end of Rua Augusta and it is also a very pleasant area to wander.
I recommend visiting the Beer Museum and trying a Ginginha (Portuguese liqueur) in a chocolate cup in one of the stalls in the Square. To get to the square, you can alight at Terreiro do Paço metro station.
7.  Pink Street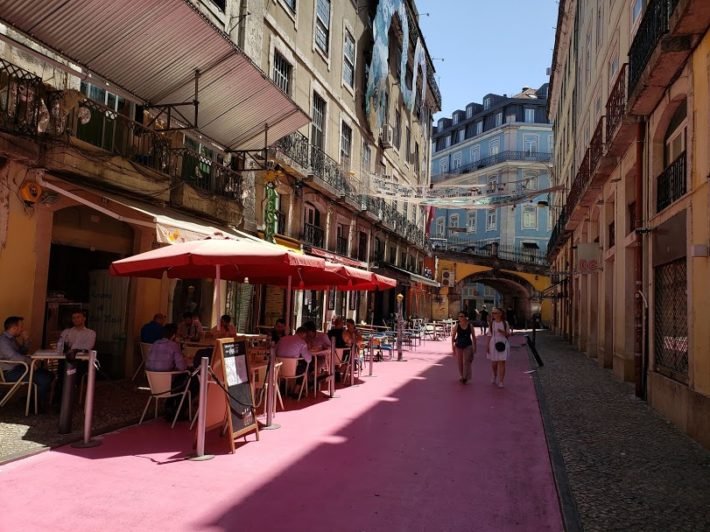 Pink Street (Rua Rosa) is the main region where nightlife takes place in Lisbon. Rua Rosa got its nickname because it has a pink painted floor. In 2013, it was revitalized. The region, which once was a red-light district, got a new atmosphere with clubs, bars, and restaurants.
During the day, the street is empty, but at night, locals and tourists from all countries meet there (or in the adjacent streets) until the early morning.
Among its most famous nightclubs, Pensão Amor stands out but there is a long queue for entry.
One pro of the nightclub is that there is no consumption charge or entrance fee: you only pay for what you get. Another pro is that Pensão Amor offers several environments. In one of them, where the music was playing, it was crowded, almost without space to pass, but there were other rooms where you can seat and be more relaxed. Smokers stayed on a terrace outside, without disturbing the people inside.
The sexual decoration of the nightclub stands out. For instance, the paintings on the wall depict women in sexy lingerie. There was even a pole dance studio, where I saw a tourist making a pole dance performance. On the first floor, there is a sex shop. Despite that, the atmosphere is not vulgar.
For those who like nightlife, I think it is a good option.
To get to Pink Street, you can alight at Cais do Sodré metro station, then cross Avenida 24 de Julho and take Travessa Remolares. Pink Street is the second street on the right.
8. LX Factory
LX Factory is one of the hottest places in Lisbon situated in the Alcântara neighborhood. It is a cool space that comprises shops, restaurants, bars, offices, and events, located on the banks of the Tagus River, close to the 25 de Abril Bridge.
LX Factory was a former fabric factory, Companhia de Fiação e Tecidos Lisbonense, which occupied several warehouses in a 23,000 m² area.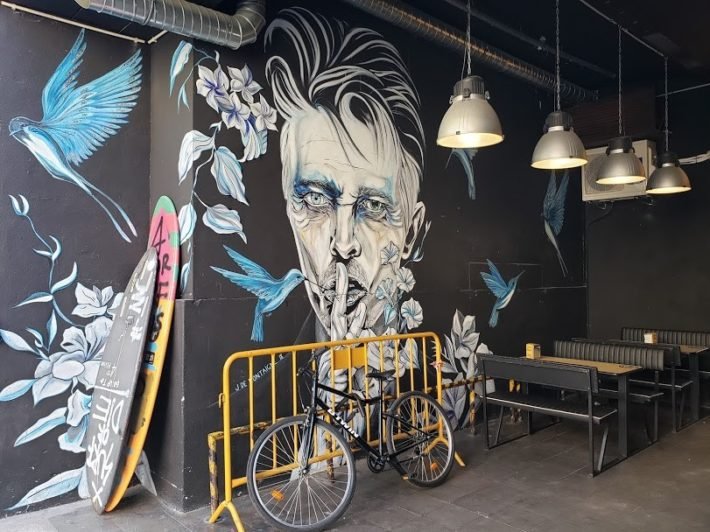 On my last trip to Lisbon, I went there and did love this place. As I had already had lunch, we just walked around the complex. I was delighted by the bookstore Ler Devagar.
Undoubtedly, the LX Factory is a space where creativity emerges. You can enjoy art, read, have lunch, dinner, drink, and even sleep. There is a hostel in the complex called The Dorm.
To get there, you can take the Tram 15E from Cais do Sodré and get off at Calvário station. But, if you're in a group, you can take a taxi or a Uber.
I hope you enjoy Lisbon! Have a nice trip! And don't forget to read our English articles.