Since the beginning of the year, Norwegian Air has been flying to Brazil. Norwegian Air is the third-largest low-cost low-fare airline in Europe and it's worldwide famous for operating low-cost long-haul flights to Asia and to the Americas.
Norwegian Air Shuttle ASA is a Norway-based holding company that has several subsidiary airlines, such as, Norwegian Air International, Norwegian Air Argentina, Norwegian Air UK, and Norwegian Long Haul. Norwegian Air UK flies to Brazil and Norwegian Long Haul has flights to Asia and the United States.
The company operates the flight between London-Gatwick (LGW) and Rio de Janeiro (GIG). Norwegian flies the modern Boeing 787 Dreamliner with two service classes: Economy and Premium.
One of the greatest odds of flying Norwegian is getting affordable prices to or from Europe, whether you're in the economy or in the premium class. Besides, you can buy just a one-way ticket at reasonable prices.
Here's the tip: If you buy a one-way ticket to Europe using airline miles, you might consider flying back with Norwegian Air.
Fare types
The airline has 5 different fare types:
Lowfare, Lowfare + and Flex for the economical cabin;
Premium and Premium Flex for the Premium cabin.
Premium fare entitles you to bring cabin baggage (up to 10kg) and checked baggage (2 pieces of 20kg). Besides that, fast-track, meal and seat booking are included. There is also the premium Flex fare, a little bit more expensive (+250 US dollars), which also allows you to access the VIP Lounge, make flight changes without extra costs and get refunds.
Check out all Norwegian fare types below:
Frequent-flyer Program
Norwegian has a loyalty program called Norwegian Reward. Despite being considered good in Europe, it's not very useful for those who live in South America due to the lack of air and non-air partners. Learn more, click here.
My experience
In October 2019, I flew from Helsinki, Finland, to Rio de Janeiro, with a connection in London. I paid 2,320.00 Brazilian reais (around 550 US dollars) for the premium class ticket, which was little more than twice the economy class (around 250 US dollars).
The Premium class itself is only available on long-haul flights. In the first flight leg I flew economy (Helsinki to London).
Check out my premium class flight experience!
Flight D8 366 – Helsinki and London-Gatwick
Aircraft: Boeing 737-800
Take-off: 8:05 AM.
Estimated Arrival: 9:10 AM
Duration: 3 hours and 10 minutes.
Check-in and Boarding
The check-in and bag drop at Helsinki's Airport was quite tumultuous. A lot of passengers, but only a few attendants. Most of the counters are for automated bag drop off and the passengers had many questions on how to proceed. The attendants were only available to those traveling with children or animals.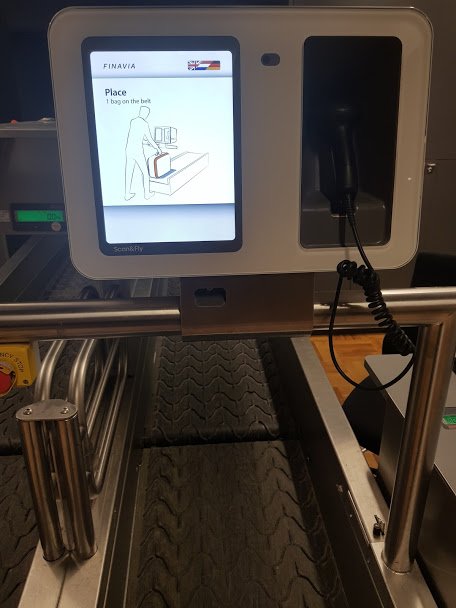 As I purchased a premium class ticket, I received a fast-track card that allowed me to "skip the queue" at immigration and airport security.
The flight delayed about 40 minutes to take off.
Aircraft
This first flight leg was made in a B737-800 and lasted 2h50min. The aircraft has a single aisle and a 3-3 seat configuration.
According to SeatGuru, the seats of Norwegian Boeing 737-800 are 29-31 inches (74-79 cm) apart (pinch) and are 17.2 inches (43.7 cm) wide.
Although the seats were new, they were narrow and the legroom was very small, i. e., nothing different from the seats available in other airlines.
Onboard Service and Entertainment
I ordered the meal while booking the flying and it was served an omelet with potato and sausage, plus a Coke. The container and cutlery were all simple plastic.
Those who did not reserve their meal could buy it on board, however, there was no hot dish available. A sandwich costs around 6.5 euros, muffins 5 euros and water 3 euros.
There was free internet during the flight, but as I was so sleepy, that I didn't even think about surfing the web.  I slept, but only after having a look at what was offered.
A selection of TV series was available, however, there were few (around 20). They were old and focused on children's themes and lifestyles. Watching movies is not free of charge. There was a selection of about 40 films costing 4 Euros each.
Flight DI 7501 – London Gatwick – Rio de Janeiro
Aircraft: Boeing 787 Dreamliner
Take-off: 12:00 PM
Expected arrival: 7:25 PM
Duration: 11 hours and 50 minutes.
Boarding
The departure at London Gatwick airport was very easy, with a special line for Premium class passengers.
Aircraft
The Boeing 787 Dreamliner aircraft had a 2-3-2 seat configuration.  Although the seats were not flat-bed, there was space for my legs. I found it quite wide and comfortable enough to rest during the flight.
According to SeatGuru, Premium class seats are 49 inches (124.5 cm) apart and 19 inches (48 cm) wide. In economy class, the distance between the seats is 31-32 inches (79-81 cm) and the seat width is 17.2 inches (43.7 cm).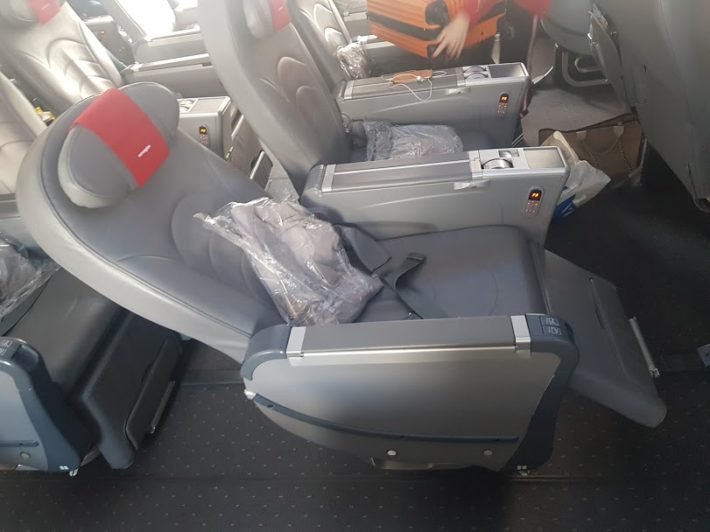 All premium class seats have individual TV screens and everything could be done through it, that is, besides entertainment, you could do duty free shopping and buy meal.
After you order (some beverages were free in premium class) and make the payment, you receive your meal quickly. I really enjoyed this convenience.
Onboard Service
The crew was polite but I would rate the service only as good. I found it quite impersonal.
First Meal
The first meal is served in a cardboard box and all plates, cutlery and glasses are plastic. I enjoyed bread, a tomato and cheese salad, chicken with potatoes, broccoli and carrots as the main course and a desert.
Only one main course option was available. Other options (such as vegetarian) must be requested in advance through the airline's website.
Second Meal
Just before arrival, a cold salad with quinoa and turkey breast, bread, Boursin cheese, and a bar of chocolate were offered. Everything in a cardboard box.
Wifi internet and Entertainment
Unfortunately, during my flight to Rio the internet was not available, which was quite frustrating! Below the access plan options:
Surf Plan: Free (only limited speed messengers and navigation)
Social Plan + Surf: GBP 4.93 (social networks and high-speed browsing)
Stream + Surf Plan: GBP 12.95 (high-speed browsing and streaming)
Onboard entertainment featured relatively new movies and some TV series, plus the flight map.
By the way, there were no amenities kits. The only thing provided (when asked for) was a simple headset in a nice little box. A blanket was available for use in the cabin.
Is it worth flying premium at Norwegian Air?
Yes! I would fly again because the value for money is excellent. After a 12-hour flight, you arrive home much more relaxed without paying a lot for it.
However, don't expect a business-class service or a flatbed!
Read all our English articles, click here.