After visiting the Philippines, we spent New Year's Eve 2017 in Bangkok, Thailand, one of our favorite tourist destinations.
It was the second time we celebrated the New Year in the Thai capital.  The first one was in 2013/2014, but it was rather boring, in a closed lounge at Eastin Grand Hotel Sathorn. Despite being an excellent hotel, the hotel has no rooftop.
This time, however, we would have a delicious dining experience on the banks of Chaophraya River, the famous river that runs along this incredible metropolis.
Note that Thai New Year (Songkran) takes place in April, usually between the 13th and 15th of the month. It lasts for 3 days. During these days, people often wear their best costumes and go to the streets to splash water on each other. It is also a religious event in which monks bless houses and in which Buddha images are blessed with water and essences.
Places to celebrate the New Year in Bangkok
There are several places where you can celebrate New Year's Eve in Bangkok, which can be divided into two groups: the public and the private ones.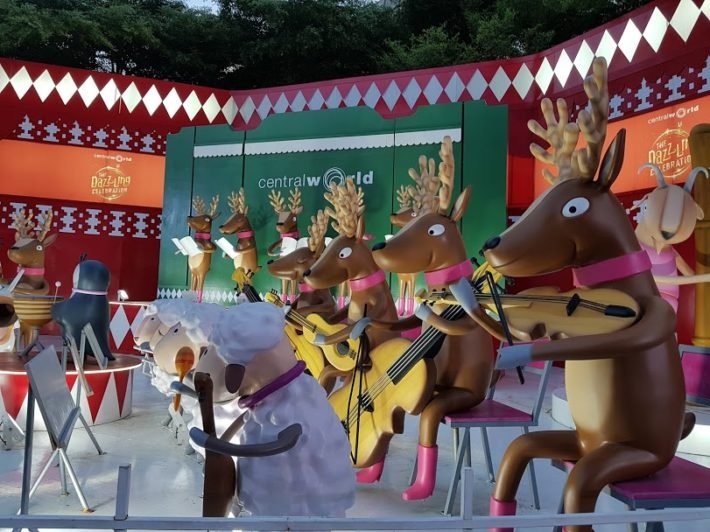 Among the public ones, I recommend going to Central World, a shopping mall located in the famous mall district of Bangkok (Siam). In addition to various stages and scenarios, the breweries set up their stands and charge reasonable prices.
Other public options include the Asiatique – The Riverfront, a night market on the bank of the river, and the amazing Khao San Road.
However, these public places are usually very crowded. Indeed, Bangkok is an 8-million metropolis, not to mention the other millions of tourists who visit it. One should expect a lot of people.
Among the private places, there are Rooftop Bars, which normally offer an incredible view of Bangkok. Some of them are on the banks of the Chaophraya River.
I will give you some options:
Vertigo – Banyan Tree Bangkok
Sky Bar – lebua at State Tower
Three Sixty – Millennium Hilton Bangkok
Above Eleven
342 Bar – Baan Wanglang
Long table *
The Roof @ 38Bar – Mode Sathorn Hotel *
During my trips to Bangkok, I went to these last two ones, but not in New Year's Eve. I really enjoyed the experience. and did not find it so expensive.
Usually, rooftop bars in Bangkok are quite expensive. These places are just for you to have a drink, a sight experience and that's all. Hence, you can imagine how expensive New Year's Eve packages can be.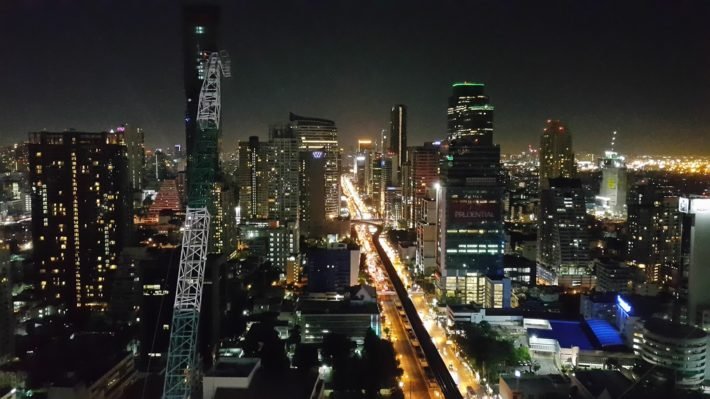 For those who enjoy the nightlife, there are some night clubs at RCA – Royal City Avenue. The most famous are Onyx Bangkok and Route 66 Nightclub.
Finally, there are also the Chaophraya River dinner cruises.  One best-known cruise is the Loy Nava Dinner Cruise.
Riva Arun Bangkok
After a lot of survey for the New Year's Eve party, resulting in many expensive or already sold out rooftops, we found the Riva Arun Bangkok, a four or five-story hotel in the historic center of Bangkok.
As its name implies, the hotel is located on the opposite side of Wat Arun.
Wat Arun, known as Temple of Dawn, is one of Bangkok's most beautiful attractions. The temple is nice to look at from a distance, whether it is dawn, sunset or even at night. What stands out most is the 70-meter spire, decorated by tinted glass and Chinese porcelain. It can be enjoyed by anyone sailing on the Chaophraya river. It is possible to climb the spire, but there is a steep and narrow staircase. Care must be taken when going up and down. From above, you will have a beautiful panoramic view of the River.
Moreover, Riva Arun Bangkok is also next to Wat Pho.
We went up to the 4th or 5th floor and found a rooftop that closely resembles the apartment building roofs. It has an open area, which occupies the biggest part of the last floor, where the tables are located.
Our table was in a prime location, with a perfect view of the river and Wat Arun.
Dinner's Menu
A 5- step menu, including dessert, was served at our table. There was also a table of cold cuts we could serve ourselves with a delicious variety of cheese and candied fruit.
To drink,  red wine (house wine), sparkling wine, draft beer, soft drinks and juices were available. Check out the sequence of dishes.
First Course
Pepper Beef Tataki: sliced wagyu beef A5, brushed with Kee Mao sauce severed with mini truffle mash potatoes.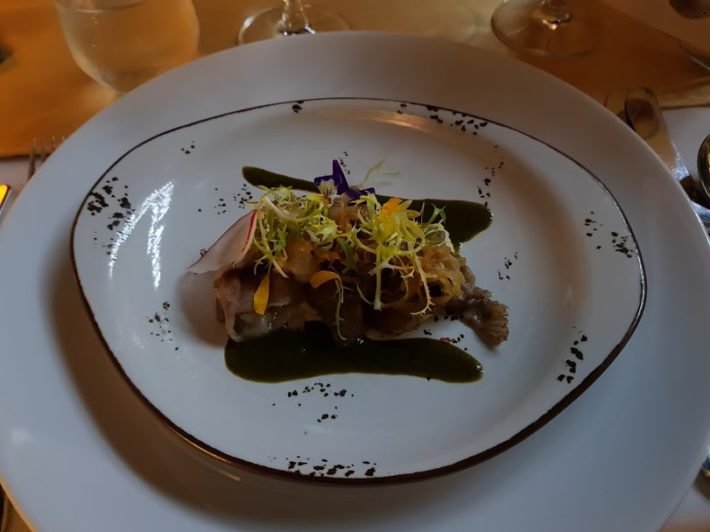 Second Course
Wild Mushroom Soup: puree of portabella mushroom, sweet brown mushroom with double cream top with truffle oil.
Third Course
Snow Fish & Risotto: marinated snow fish with miso paste, seafood risotto with tomato sauce served with cold beurre blanc salmon roe.
Main Course
Rib Eye Tournedos: charcoal grilled U.S rib eye steak top pan seared foie gras served with home style rosti potatoes and garden vegetables in cheese cup.
Dessert
Sweet Platter: Mini chocolate lava, Pistachio creme brulee, Lemon cheese tart.
Price
The price was not cheap, but it was the cheapest option we found. It costs 5.297 bahts per person (about 175 US dollars).
It is necessary to pay at the time of booking. Payment can be made by international bank transfer or by credit card.
All negotiations were made by email: info@rivaarunbangkok.com.
A night tour of Wat Pho
In the middle of our meal, we decided to take a walk around Bangkok's historic center. Even after the third dish, we were full up. Too much food and everything delicious!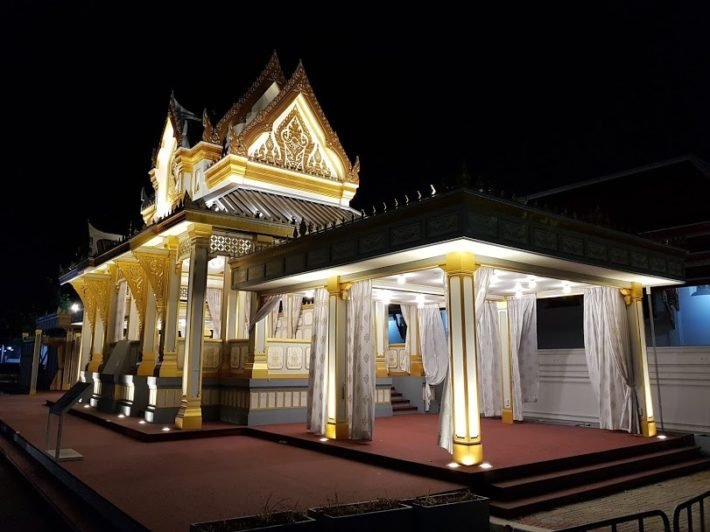 What was our surprise? At night, the Wat Pho temple was open and, even better, the admission was free.
Wat Pho is also known as the Temple of the Reclining Buddha. Indeed, inside one of its buildings, there is a giant statue of a lying buddha, 46 meters long and 15 meters high. It doesn't even seem to fit right in the building! It is quite difficult to take pictures of the statue altogether. The statue is covered with gold leaves and the 5-meter-foot has mother-of-pearl inlaid, illustrating the 108 positive Buddha actions that made it perfect (Láksànà).
Many locals were there praying at the temple, but it was still quite empty. Much more empty than the usual visiting hours.
Above all, I took the opportunity to appreciate those beautiful illuminated buildings and monuments.
Happy New Year!
It was almost midnight, time to return to the Riva Arun Bangkok so as not to miss the high-point of the party.
The countdown took place at the rooftop, but the fireworks could only be observed far away. It was a little frustrating as I imagined there would be something near Wat Arun, in front of us.
Anyway, it was worth spending my night there. In the end, we received a bottle of wine, not to mention the other gifts: a hat, glasses, tiaras, horns, and confetti.
Full up, we took a taxi to our hotel in Bangkok.
Bottomline
To sum up, I really loved spending New Year's Eve at Riva Arun Bangkok. Our New Year's Eve dinner had good food, snacks, and dessert. Everything was excellent. There were also good wines and many other drink options. The service was exceptional and we could even watch a nice Thai dance show. The party's highlight was the incredible view of Wat Arun and the Chaophraya River.
However, I think the price is a little bit expensive.
Read all our English articles, click here.