Santiago, Chile's capital and largest city, is an amazing tourist destination in Latin America. It is possible to visit Santiago at any time of the year, but the best time depends a lot on what you intend to do in the city. Obviously, if you plan to play winter sports, you'll have to travel during the snow season.
As a rule of thumb, I recommend visiting Santiago during the low season (from March to May or from October to November), when prices are more affordable. In addition, in these months the weather is milder and more pleasant, allowing you to better enjoy the urban life and the wineries.
Weather in Santiago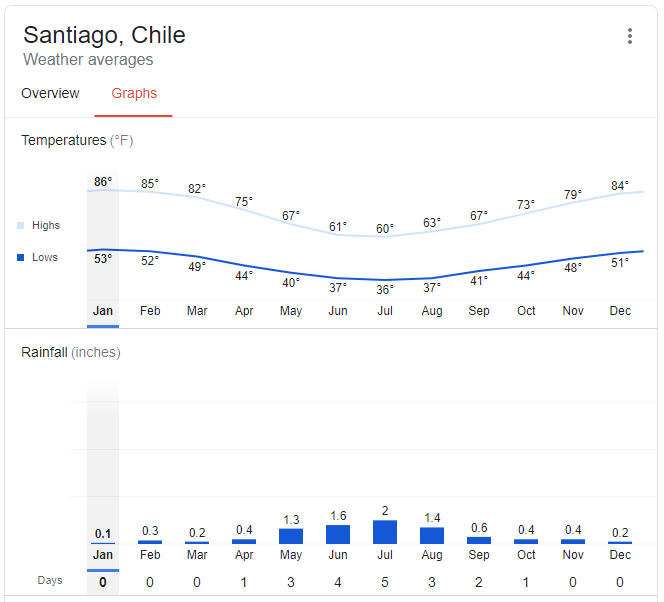 Seasons in Santiago are well defined. In summer, between December and March, the weather is drier and temperatures can vary from 51°F (11°C) to 86°F (30°C). The average temperature during the summer is 73.4°F (23°C).
Winter, between June and September, is the rainy season, but it doesn't rain that much (between 3 to 5 days a month). Temperatures can range from 36°F  (2°C) to 63°F (17°C). The average temperature during the winter is 48°F (9°C).
Is it worth visiting Santiago in the winter?
In July, everything in Santiago is much more crowded and expensive. Therefore, I only recommend traveling at this time if you are going to practice winter sports. Even so, consider going in August or early September, when you will be able to pay cheaper and not find so many tourists.
When does it snow in Santiago?
It's very rare to snow in Santiago, even in winter. When it does take place, the snow is accompanied by rain, which makes the experience itself not very pleasant.
Snow generally occurs on the outskirts of Santiago, in higher regions, in June, July, August, and sometimes September. It's there where main ski resorts (Farellones, Valle Nevado, Ski Portillo, etc.) and other winter sports facilities are located.
However, at any time of the year, it's possible to observe the snow at the top of the Andes, either in the city (featured picture), or flying over this beautiful mountain range.
When is the best time to visit the wineries?
March and April are the best months to visit Chilean wineries. It's when the grapes are ready to be harvested. As I said earlier, at that time of the year, the weather in Santiago is mild, ideal for tasting a good wine.
During this period, wineries usually offer wine harvest festivals (Vendimias) providing visitors with an incredible experience. The price varies from winery to winery (some of them are free) and it may be necessary to book your ticket in advance.
The festivals usually also have music and local food. Visitors wear aprons and receive scissors, box, and gloves to harvest grapes on their own. Often it is still possible to tread the grapes (grape stomping). But it's just a recreational activity just for you to learn the old method of wine-making.
When is the best time to visit the coast?
I must admit that I'm not a big fan of the Chilean coast, but I know that many tourists who go to Santiago want to visit the famous coastal cities of Valparaíso and Viña del Mar. They usually take a day trip to both cities altogether.
Valparaíso is known for its steep hills, colorful houses, and funicular elevators. It's also known for the various graffiti scattered around the city, transforming it into an open-air museum, and for the house of the poet Pablo Neruda.
In turn, Viña del Mar is known for being a seaside resort with several beaches. However, the city offers other tourist attractions such as a Casino, a Flower Clock, the Botanical Gardens, and the Wulff Castle (Castillo Wulff).
If you want to go to the beach, don't even think about going to Viña del Mar outside the summer. Even in this season, Pacific Ocean water is extremely cold (12°C – 53°F in January).
However, if you want to enjoy the other tourist attractions in Valparaíso and Viña del Mar, you can go at any time of the year. Avoid rainy days as they can ruin your trip to the coast. By the way, the rainiest period is from May to August.
---
If you like reading this post, check out all our English articles.