As the pandemic ends and international tourism begins to heat up, Aerolineas Argentinas improves its connectivity to Brazil. Some routes were created, other routes had been restored and the frequency of existing ones had been increased. Recently, Aerolíneas also launched an air shuttle service between São Paulo and Buenos Aires, in partnership with Gol Linhas Aéreas.
Indeed, the Brazilian market is essential for Aerolíneas Argentinas, but this connectivity helps, above all, Brazilian travelers or international travelers connecting in Brazil. Currently, Aerolíneas has direct flights from Brasília, Salvador, Florianópolis, Porto Alegre, Curitiba, Rio de Janeiro, and São Paulo to Jorge Newbery Airport (AEP), known as 'Aeroparque', located in the central area of Buenos Aires, which comes in handy for foreign tourists. Departing from São Paulo/GRU, Brazilian main airport, there are also direct flights to many other Argentinian cities.
Most short-haul flights are operated by single-aisle aircraft, such as the Boeing 737-700/800/MAX and Embraer 190 (by Austral, a subsidiary airline). For these routes, two classes of service are offered: Economy and Premium Economy. Business class is reserved for the Airbus A330-200, an aircraft that is used for long-haul flights.
In October 2022, we flew Premium Economy between Brasília (BSB) and Buenos Aires (AEP) on Aerolineas Argentinas. In this post, we tell you how the whole experience was. By the way, as of March 2022, this route has been restored.
Check it out!
Buying the Airline Tickets
We purchased our airline tickets directly through the website of Aerolineas Argentinas, which is very intuitive and has an English version. Payments for online purchases can be made using credit cards. Even in Premium Economy, direct flight fares are very reasonable when compared to other flights that require at least one connection in So Paulo (GRU).
On 27th November 2022, I found Premium Economy tickets from Brasilia to Buenos Aires for US$ 260.80. It's almost the same as the base fare of a non-direct flight between the South American capitals, as you can see in the picture below.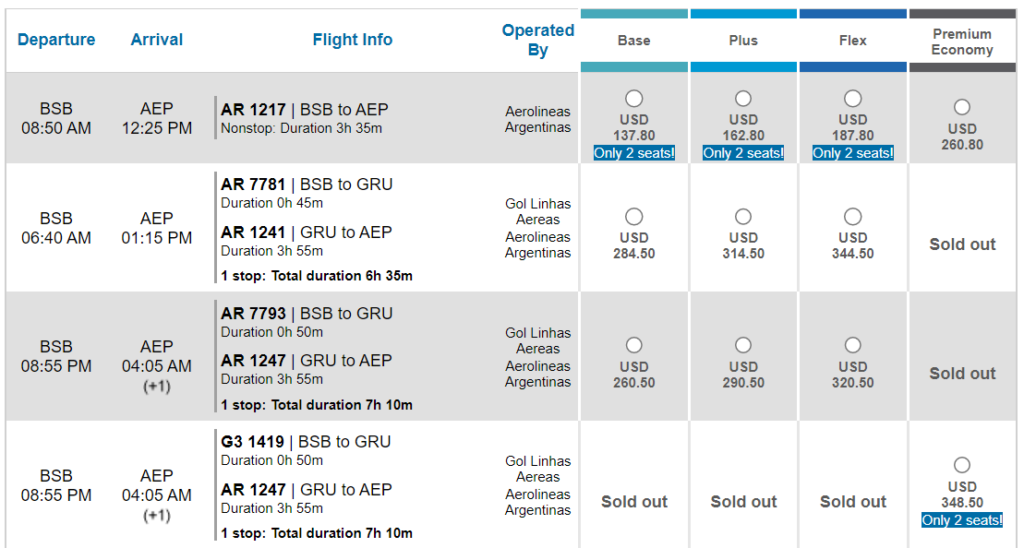 The Premium Economy fare for this flight, which includes checking in two pieces of luggage weighing up to 23 kg per person, was the best fit for us. By the way, the cheapest economy class fares were not available, and as the difference was relatively small between Flex and Premium Economy, we opted to try out this superior class.
In all fare classes, seat selection is included and can be made at the time of purchase. But, if you haven't already done so, you can do it later very easily and quickly through the website by clicking on the My Reservations item.
After the purchase, our original flight was canceled, and Aerolíneas changed the flight time to the day before.
In case of a unilateral modification of the flight by the airline, if the passenger is dissatisfied, he can choose a new date and time for the same segment without paying extra for it, even if the new fare is more expensive than the one you paid. This can be great for the traveler! Be aware and think carefully beforehand, as this free change can only be made once.
We took the opportunity to anticipate our flight even more and stay longer in Buenos Aires.
The website of Aerolíneas Argentinas in theory allows you to choose your new flight online. I don't know why it didn't work in our case. To make the flight change, we had to call the Consumer Service of the airline, which works from Monday to Friday during business hours. We spent about 20 minutes on the phone.
Check-in and baggage drop-off
We checked in online on the airline's website, and everything worked very well. In less than two minutes, we got our boarding passes.
When checking in, don't forget to include your loyalty program number. Points can be earned in any SkyTeam alliance program, including KLM's and Air France's Flying Blue.
At Brasilia Airport, the dispatch of luggage was very fast. The counters were almost empty and those traveling in Premium Economy have access to the priority line.
In Brasília, Aerolíneas Argentinas does not have an agreement with the International VIP Lounge. The check-in attendant, however, informed us that in other locations, such as Rio de Janeiro and São Paulo, Premium Economy travelers would have access to partner lounges. We were unable to confirm this information.
The website of the airline states that Premium Economy passengers have access to the Salón Condor, which is the VIP lounge located at Ezeiza Airport (EZE), which has a space for children, a Gourmet Space, and a PlayStation room.
Boarding was very quick. It is also done by the preferential queue, the same used by SkyTeam's Elite customers.
The aircraft that performed our flight was a Boeing 737-800 with a 2-2 configuration in Premium Economy. In total, there are 8 seats. The seat pitch is 91 cm (36 inches), and the seat width is 45 cm (18 inches).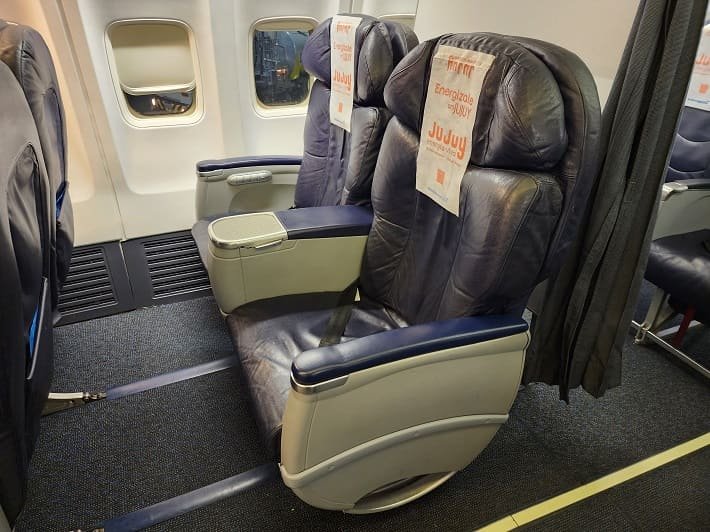 The Premium Economy seat layout on Embraer 190-operated flights is 1-2. The seat arrangement in economy class is 3-3. 43 cm is the seat width, while 81 cm is the seat pitch.
The difference between the classes may seem small, but this difference provides much more comfort for the passengers of the superior class.
As a short-haul flight, the in-flight service is very simple. It is a Miga sandwich, typical of Argentina, with ham, cheese, and a kind of curd. Very tasty. The kit also includes a Guolis alfajor, one of the best in Argentina, and a packet of peanuts.
To drink, there are no alcoholic beverages, but soft drinks, water, coffee, and tea. I confess that I was a little disappointed, as I was expecting a small glass of Argentine Malbec wine to accompany my sandwich.
There isn't much of a difference in service between economy and first class. The alfajor was from the Tofi brand, which is of much lower quality than Guolis.
On the Boeing 737-800, there was no in-flight entertainment. However, on Embraer 190 flights, operated by Austral, each seat has an individual TV with series, movies, music, and other programs. In this respect, there is no difference between the two classes.
Having said that, one can ask if it's worth traveling in Premium Economy on Aerolíneas Argentinas. If the price difference between the available fares is not too large, I believe so.
Among the advantages of traveling Premium Economy, I would like to highlight: seat comfort, check-in, and boarding priority, and access to the VIP lounge at some airports. As for the onboard service, it is relatively simple, and there is almost no difference between the classes.
In any case, what is most advantageous about these flights is the enormous connectivity with Brazil. Those who do not live in Sao Paulo or Rio de Janeiro have the opportunity to travel to Argentina, avoiding connections, saving time, and making the most of the city of Buenos Aires. On the other hand, those who live in or arrive at Sao Paulo's main airport (GRU) can travel to various destinations in Argentina without having to go through Buenos Aires. Anyway, it's better to spend more time at the destination than at the airport.
Our flight lasted 3 hours and 20 minutes. Landing at Aeroparque (AEP) was wonderful. Check here our Instagram Reels of our arrival in the lovely city of Buenos Aires.