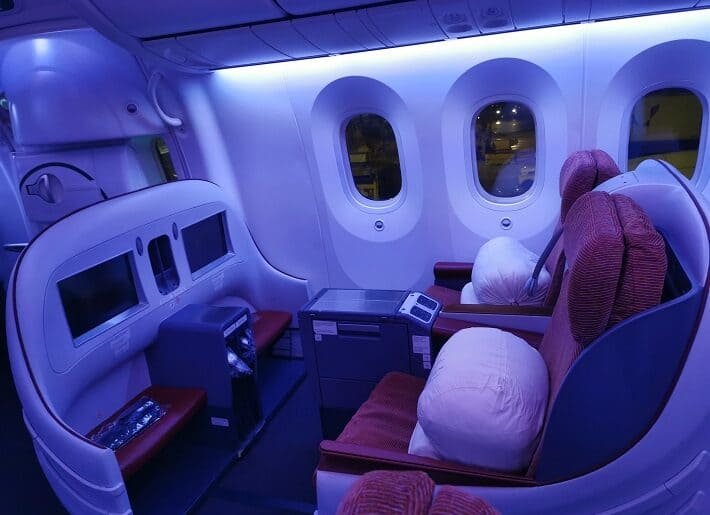 Traveling is amazing! Traveling comfortably is even better. Many people would like to know what it's like to fly business class on different airlines – if it's comfortable, if the food is delicious or if the service is VIP! However, the main question should be if you get a good value for money.
As airline ticket prices rose after the pandemic, business-class ticket prices went up considerably as well. Today, for instance, a business class ticket from São Paulo – Guarulhos Airport (GRU) to Paris (CDG) by Latam Airlines costs up to four times the economy class one.
Is it worth paying extra for a business-class seat at Latam Airlines?
You'll find the answer to these and other questions below!
About Latam Airlines Group
As you may know, Latam Airlines Group is an important airline group in Latin America along with Avianca Group. The group comprises subsidiaries in many countries such as Brazil, Chile, Peru, Paraguay, and Ecuador. Most of its flights connect South American destinations, but it also has routes to Central and North America, and Europe.
Latam Brazil is the key subsidiary of Latam Group and São Paulo (GRU) is its main hub for domestic and international flights. There are direct flights from GRU to many European cities such as Lisbon (LIS), Madrid (MAD), Barcelona (BCN), London (LHR), Paris (CDG), Frankfurt (FRA), Rome (FCO) and Milan(MXP).
In this post, I review my GRU-CDG-GRU flights on Latam Premium Business. The flights took place in September 2022. Check out how the whole experience was!
Check-in and Bag drop
My journey started in Brasília (BSB), where there is no specific check-in counter for business class passengers. However, the bag drop was quite fast. Honestly, the service is even faster than if I boarded at Guarulhos Airport (GRU).
You can print the bag tags yourself and drop the bags at the self-service bag drop counter. You just need to scan your boarding pass and bag tags at the counter. It's quite straightforward. In LATAM business class, up to three 24-kg bags per passenger are normally included in your ticket price.
At GRU Airport, there is a specific check-in counter for business class and elite customers, which also speeds up check-in. If you board at GRU Airport, be sure to look for them and avoid wasting time in queues.
The flight between Brasília (BSB) and Guarulhos (GRU) is carried out in Airbus A320 or A321. On this flight segment, I flew in the Premium Economy class, which comprises the first seats of the cabin with few differences from the other seats, such as a blocked central seat.
Latam Vip Lounge at GRU Airport
Arriving at Terminal 2 of Guarulhos Airport (GRU), you must go to Terminal 3 and carry out the immigration procedures and security screening for international flights.
The LATAM VIP Lounge is located in Terminal 3, just after immigration, on the mezzanine floor. It is open 24/7, which is very good for business class travelers.
If you're a Platinum, Black, or Black Signature loyalty customer (Latam Pass), you're also entitled to use the VIP Lounge and bring a guest with you. When you travel in business class and do not have this loyalty status, this benefit is exclusive to you.
The room is quite spacious and comfortable, but at night it can get a little crowded due to the large number of international flights that take off during this period.
Besides taking a rest, you can also have a meal, have a drink, and use unlimited Wi-Fi (the airport gives you only 2 hours of free internet access) while you wait to board your flight.
Some snacks were available to customers such as sandwiches, cheese bread, mini pizza, and fruits. For dinner, there was rice, noodles, and stewed chicken. For dessert, there was lemon pie and 'cocada' (coconut sweet) in cups. All very tasty, but nothing exceptional.
Drinks available: wine (white and red), water, soda, juices, and beers.
Latam VIP Lounge at GRU Airport has also showers, a business center, a sleeping room, an entertainment room, and a meeting room. It's one of the best Vip Lounges in Brazil.
On the return flight, I went to the Air France VIP Lounge at Paris Charles de Gaule Airport (CDG). The room is also huge but cozy. Notably, the food was delicious. My dinner was pasta with chicken and a table of Arabic sauces. Everything was simply fantastic.
The lounge has also a bathing area, individual cabins for resting, a sauna, and a children's play area.
Boarding at GRU Airport
Boarding at GRU Airport was quite fast. There is an exclusive queue for business class travelers. In Brazil business class passengers board concomitantly with passengers with priority by law (elderly, passengers with children up to 2 years old, and passengers with disabilities).
Latam Boeing 787-8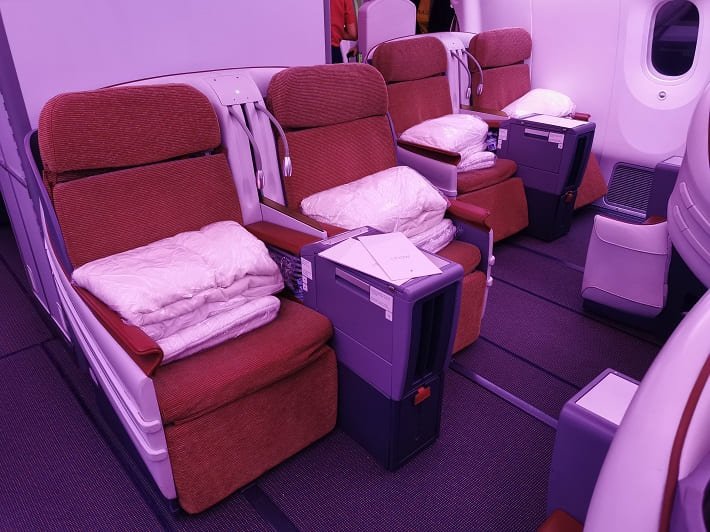 Our aircraft was a Boeing 787-8 Dreamliner with a 2-2-2 configuration in Business Class.
By the way, the Boeing 787s operated by Latam Brazil were transferred from Latam Chile to be used in long-haul flights. According to Airline Geeks, Latam Brazil would retire its entire Airbus A350-900 fleet.
The 787-8 was new and very comfortable. The seats recline 180 degrees (flatbed) and were spacious. I'm 1.74-meter tall (5.70 ft) but was able to lie down well without feeling claustrophobic.
There are 30 flatbed seats in Premium Business Class. According to the SeatGuru website, the pitch (bed length) varies from 72 to 75 inches (up to 188cm) and the seat width is 23 inches (58 cm).
Amenity kit
The amenity kit, a slipper, and a bottle of water were already waiting for me in my seat.
For years, the Latam Amenity kit has had the same design and content: a white and black striped small bag with some L'Occitane products. Some airlines change the design of its kits from time to time, but this is not the case of Latam.
Services on board
On both the outbound and return flights, I found the flight attendants a bit inattentive. Nobody helped us to put the "bed cover" on the seat and, therefore, many business class passengers ended up not using it. Besides, there was no welcome drink, which is also a common benefit of this type of service.
Before taking off, you will find a menu on your seat and you must choose your dinner and your breakfast.
For dinner, there were various cold cuts for starters and as the main course, one could choose between meat, pasta, and salad. For dessert, there was the option of the day (on my flight, lemon pie), fruit, or ice cream.
Unlike some airlines that serve the dishes one by one, in Latam, they bring the entire meal at once. I honestly prefer the first way. The food can be accompanied by wine, beer, soft drinks, or juices.
For breakfast, there was an omelet or cold cuts as the main course and you can choose a side dish like yogurt with granola or coconut cream. To drink, coffee (with or without milk), tea (no option to choose the flavor), and packaged juice.
On the outbound flight, I had the salad with parma ham which was ok. And on the return flight, I had a goat cheese ravioli with tomato and pepper sauce which was very tasty.
In other words, the breakfast was very basic. It is the same served in economy class only with a more refined presentation.
Entertainment onboard
None of the flights had internet available, nor even paid. On the other hand, the entertainment system had a good amount of TV series and movies, but none of them were very recent. The entertainment offered is the same for all classes.
On my return flight, the remote control was broken. I warned the flight attendants before takeoff, but they told me nothing could be done. Rising to perform every action in the system was not so comfortable. But it was a night flight and I slept right after the meal.
Overall Review
Latam's Business Class flights were very comfortable. The seats are flatbed and spacious. On the other hand, onboard service left a bit to be desired. It's just ok.
As for value for money, I think it's worth buying a Latam business class ticket only when you find a good promotion. This is not common but promotions take place sometimes, notably on Latam flights to Barcelona (BCN), Frankfurt (FRA), and Madrid (MAD).
---
About Business Class flight reviews, read also: