At the beginning of 2020, I flew Qatar Airways Business Class from China to Brazil. In this article, you will discover how amazing that experience was and you'll understand why Qatar Airways was considered the world's best Business Class in 2019 according to Skytrax.
As a rule, flying Qatar Airways isn't cheap, especially Business Class. But, from time to time, one can find cheap airfares for selected destinations. We enjoyed one of these promotional fares.
Our strategy to get a reasonable price was to buy the originating flight to Asia in economy class and the return flight in business class. We went firstly to Shanghai, China, and returned from Guangzhou, as these were the cheapest options. The booking was made 10 months before the flight.
On the way back, we took 2 flights on different aircraft types, with different seat configurations and on-board services. Check out how our experience was!
At first, I was frustrated
Ten days before the flight, the airline notified us of the aircraft change and asked for confirmation via Qatar Airways' website. The schedules hadn't been changed, but the aircraft model wasn't the one we expected to fly. Our intention, as aviation enthusiasts, was to fly the Airbus A380, but it was temporarily replaced by a Boeing 777-300ER.
We couldn't do very much about it. If we didn't accept it, we could get bigger problems.
What made me angrier on Qatar Airways was that the airline already knew it early on 4/9/2019, but informed us only on 5/1/2020, that is, nine months later. A terrible slip-up!
Check-in and Baggage Check
We checked-in online via Qatar's website. A very quick procedure. There was no need to re-enter passport data, as they had already been entered on the outward leg.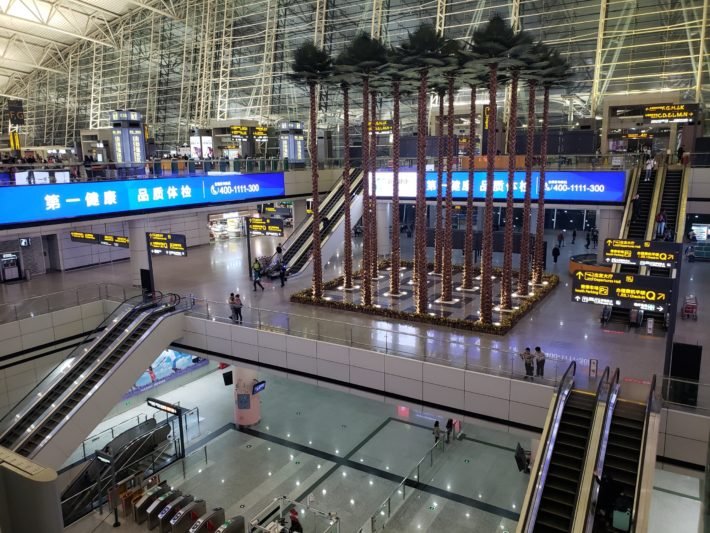 At Guangzhou-Baiyun International Airport (CAN), like all airports I've been in China, passengers and their luggage are inspected right at the entrance of the building, that is, before entering the check-in area.
The CAN airport is huge and has two terminals: Terminal 1 and Terminal 2. Qatar Airways operates in Terminal 1. To access Terminal 1, you can get off at the Airport South metro station and, to access Terminal 2, use the Airport North subway station (metro line 3). By the way, from Tianhe, in central Guangzhou, to the airport, it takes around 50 minutes by metro and the fare is 7 RMB (1 USD).
In the check-in area, there was an exclusive queue for Executive and First Class passengers. Before heading to the counter, the attendants checked the names of all passengers traveling Business Class to confirm if they were on the list.
The baggage dispatch was very fast and we had time to appreciate a little bit of the airport decoration, already prepared for the Chinese New Year celebrations: it is the year of the Rat!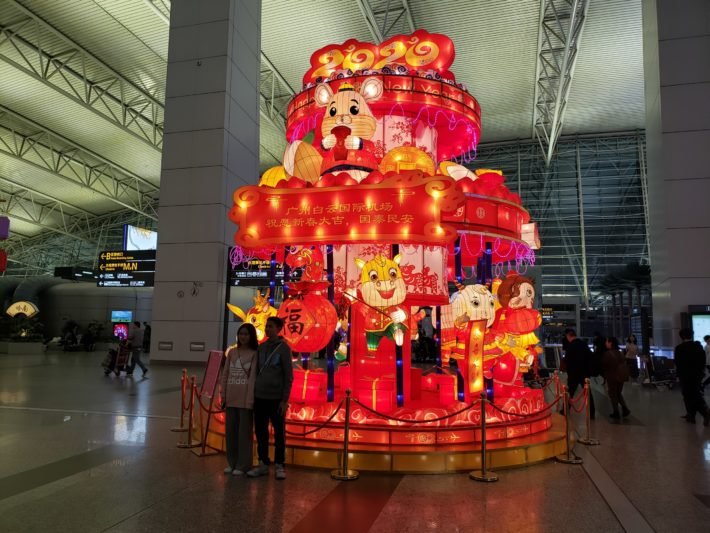 Moving on to the boarding area, there was a fast track in the security screening for business and first-class travelers. By the way, to board any airport in China, you have to pass through several checkpoints where officers check your passport and boarding pass.
Premium Lounge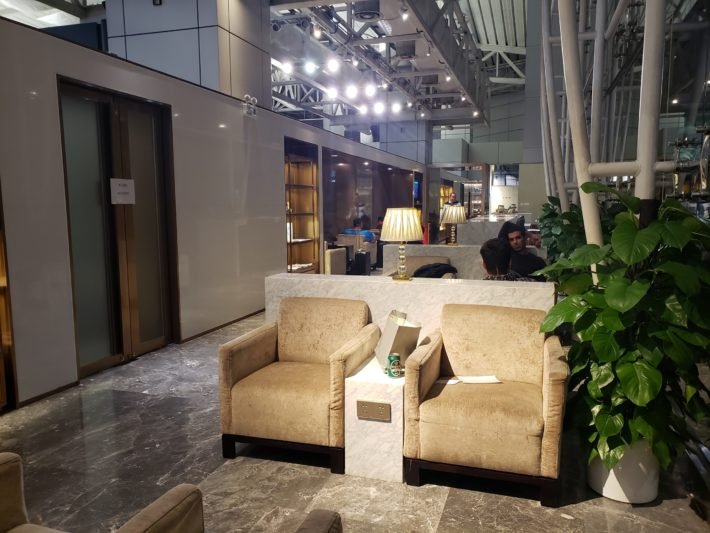 After passing through immigration, it's time to head to the VIP Lounge. We had received a voucher to use the Premium Lounge.
The Premium Lounge has two units in Terminal 1. In Wing A, next to our departure gate, the room was very small. It was a long corridor with a few armchairs that led to the food and drink area. There was no toilet inside.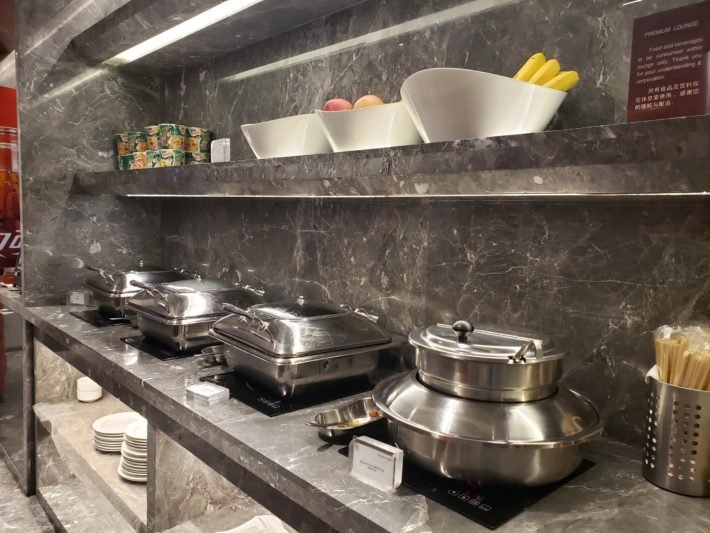 There were few places to sit and a few food options: sandwiches, soups, some dumplings, and peanuts. To drink, some soft drinks and water in the refrigerator. An almost empty wine bottle was also there.
In fact, most of the food and drinking options were over when we arrived and there was almost no service. To sum up, the room is really bad.
QR 875 flight: Guangzhou – Doha
The first flight was at night and lasted around 9 hours. It left at 00:50 AM from Guangzhou, arriving in Doha at 5:20 PM.
At the departure gate, there were separate queues for business-class passengers and Oneworld elite members. We boarded the plane very quickly.
Seats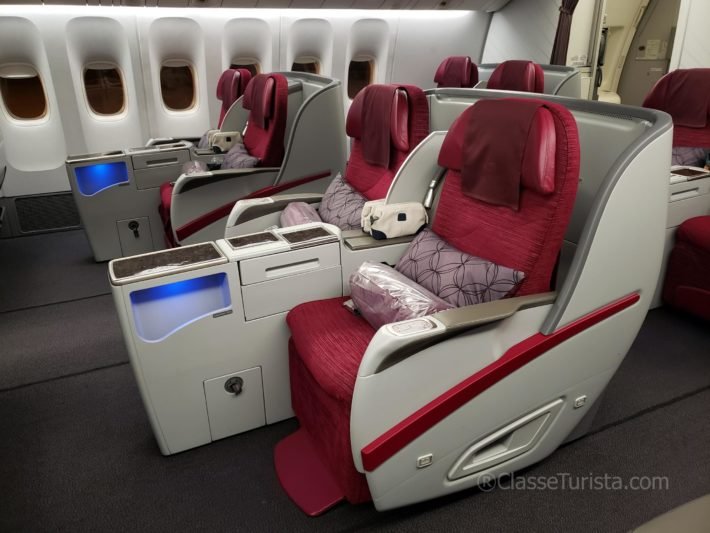 Our plane was a Boeing 777-300ER and the Business Class had a 2-2-2 seat configuration.
The seats were good and comfortable with excellent legroom. The flight attendant could move around without disturbing us. In fact, the distance between the seats (pitch) was almost 2 meters (78″). Impressive! In turn, the seat width was around 55 cm (21.7″). The seats have a bottle stowage, where there was an Evian bottle for me.
In addition, the seats are flat-bed. It's perfect for a 9-hour sleep.
Passengers get also custom amenity kits, for men and women, in addition to blankets, pillows, pajamas, and slippers. Exceptional care!
Onboard Service
Right after boarding, I was offered a mint and lemon juice. Delicious!
During the flight, two meals were served: a light meal (late-night dining), right after departure, and breakfast, close to arrival.
Among the late-night dining options, there was mushroom soup, salad, noodles, roasted pumpkin, and cheese plate. To drink, there were several kinds of sparkling wines.
For the light meal, I ordered a meat sandwich with gouda cheese. Wonderful! The bread was deliciously crispy! A "candlelight" accompanied the meal! A Malbec wine helped me to relax.
According to my wife, the mushroom soup was the best she has ever eaten!
For breakfast, there were eggs, fruits, tomatoes, bread, yogurt, toast, among other options. To drink, there was orange or carrot juice. Made to order!
I ordered an omelet with tomato and a fruit plate. To drink, I choose espresso. The best I've ever taken on a flight.
Entertainment System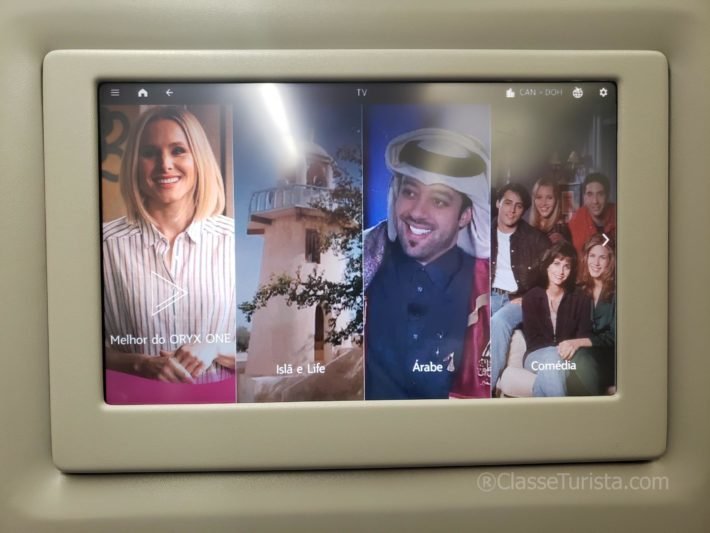 Qatar Airway's entertainment system is called Oryx One and is the same in all classes of service. Only the screen size varies. You receive a noise-canceling headset. Great!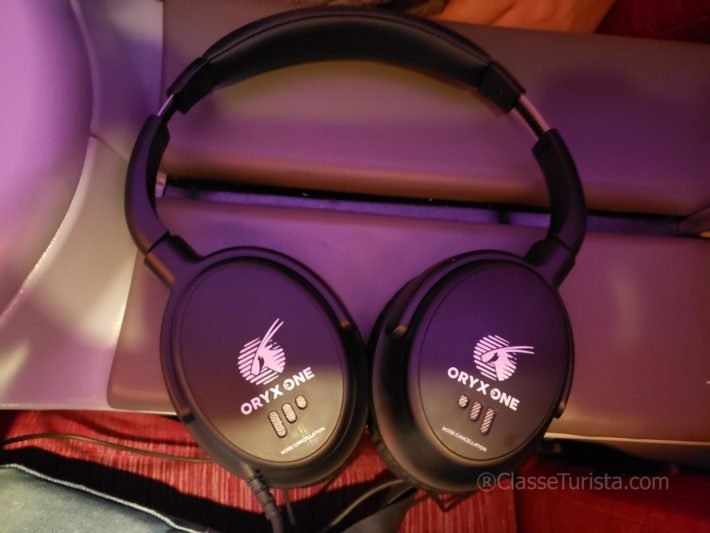 You will find several options for movies, TV shows, music, and games. To know what´s available for your flight, click here.
Unfortunatelly, many options were aimed to Indian, Arab and Asian audiences. Few programs were available in Portuguese, my mother tongue. Anyway,  if you like Bollywood movies you will have many options to watch during the flight.
On the screen, you can also find information about flight connections at Doha airport.
Internet
Qatar Airways offers 1-hour free internet access for all classes of service. This complimentary Wi-fi is per device. So, if you have a tablet and a cell phone, you can surf for up to 2 hours for free. If you need to access for longer, the price for the entire flight is 10 dollars. The amount is charged directly to your credit card.
Landing and Connection in Doha
The connection in Doha requires you to pass through another security screening before entering the boarding area. There is no need to go through immigration, as is the case in the United States and Canada. At certain times, the queue can be quite long, but there's also a separate queue for business-class travelers.
From the aircraft to the security screening you have to walk a lot. So, if you have  short connection time, go to the screening as fast as you can.
Al Mourjan Lounge
At Doha Airport, there are different VIP Lounges for first-class, business-class, and elite Oneworld customers. The lounge for business-class travelers is Al Mourjan Lounge. The entrance is via an escalator next to Duty-Free.
The room is incredibly large. It covers 10,000 m² on the upper floor of the departure area.
There are many environments and facilities offered, such as game rooms, business centers, break rooms, family areas, restaurants, and showers. The furniture arrangement creates "quasi-private" spaces.
However, when I arrived, around 6 AM, the room was packed and it was difficult to find vacant seats for 3 people together.
There are many food and beverage choices in the restaurant. But, as I had little time, I just had an espresso and headed to the departure gate.
QR 773 flight: Doha – Guarulhos
The second flight was a daily flight. We left at 07:20 AM from Doha and arrived at 5:20 PM in São Paulo, Brazil. The flight was operated by a Boeing 777-200LR.
Boarding
In the departure gate at Doha airport, there is a reception, where you present your passport and boarding pass for registration. The rooms are large and boarding is also made by groups, with seating rows assigned for each group.
After the boarding call, the procedure was very quick and we proceeded to the aircraft.
As on the first flight, passengers are welcomed with a drink. In my case, I tried the delicious mint and lemon juice again.
QSuites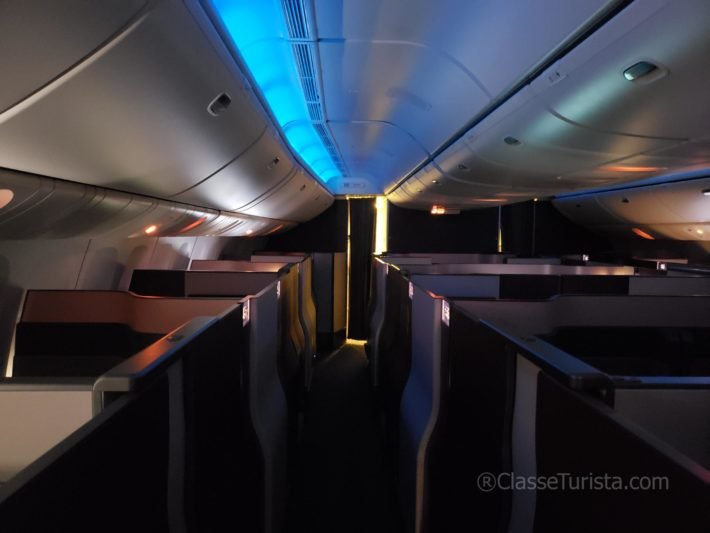 The luxurious QSuites are available on Qatar Airways flights to Brazil and Argentina.
Basically, they are compartments that offer privacy to business-class passengers. It is like a "kid house" in which the occupant closes the door and can stay there isolated from the other passengers. For safety, the doors are opened and locked during landing and takeoff. There is even an instructional video on how to use them.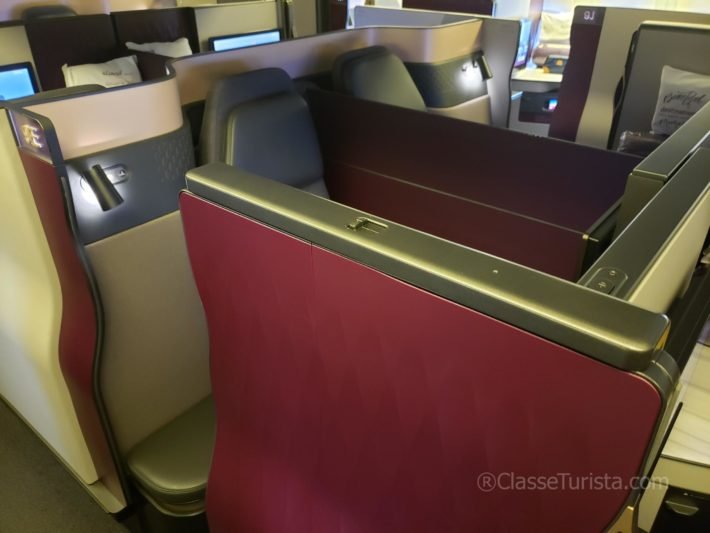 The cabin has a 1-2-1 configuration. The distance between seats is at least 2 meters and can reach 2.6. Impressive!
The seats are flat-beds and are excellent for those who want to have a good night (or day) of sleep.
In the central Qsuites, couples can sleep together, as well as businessmen can hold meetings at 39,000 ft. Some Qsuites are facing the front, others are facing the back, which allows meetings of up to 4 people. However, to book these suites, passengers must be traveling together.
In my opinion, one of QSuites main pros is the various places to put your personal objects, such as a side stowage and an auxiliary table.
All suites have an electrical power outlet, remote control for the entertainment system, and a USB port.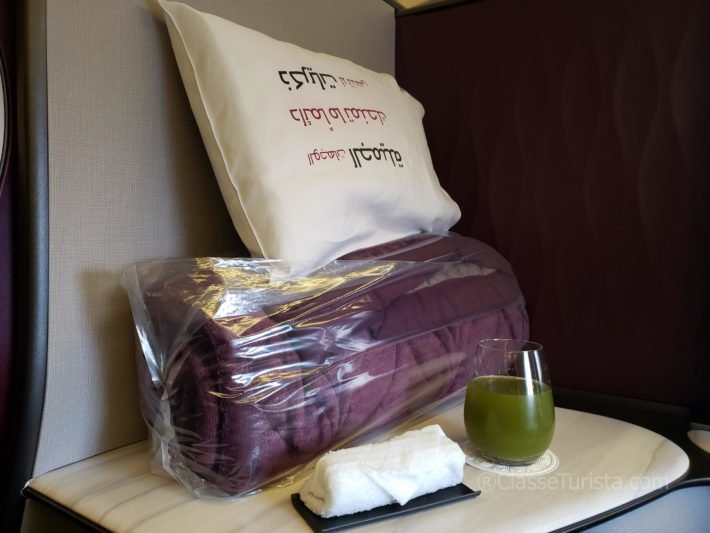 In the same way as on the previous flight, personalized Amenity Kits, blankets, pillows, pajamas, and slippers were provided.
Onboard Service
What stands out most on the flight to Brazil is the on-demand service, that is, you don't have to eat at the time set by the crew. You can order your breakfast or lunch whenever you want. They only ask for 20 minutes to prepare it for you. I haven't seen this on any other airline!
Basically, you set up your breakfast or lunch, with starter, main course, drinks, and other options.
For breakfast, I ordered an orange juice, with a fruit plate and a plate with an omelet, tomato, and sausage [similar to the first flight].
At lunch, I received a small appetizer first.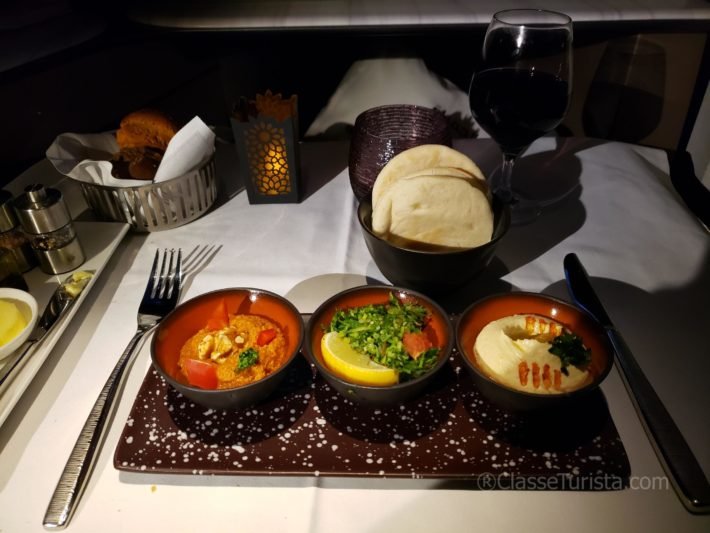 I ordered a typical Arabic starter with hummus, tabbouleh, and Arabic bread. For the main course, I choose salmon and, as dessert, a dulce de leche cake. To drink, I ordered the delicious Shiraz wine. It was so good that I drank too much!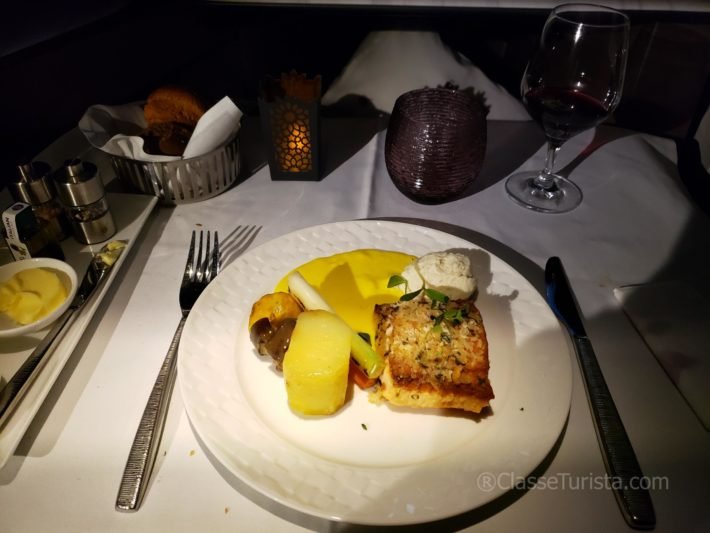 Finally, you get a delicious Godiva chocolate. An Indian flight attendant was responsible for serving me. He was a very friendly and helpful person.
Entertainment and Internet
The entertainment system was the same one as of the previous flight and with the same movies, TV series, and games.
During the day, I took the opportunity to watch a Japanese series, Legal V, in which a scandalous ex-lawyer, Shoko Takanashi, who peculiarly runs a law firm winning all legal disputes. The programs were in Japanese, but with English subtitles.
During the flight, the Internet was also available onboard in the same conditions as the previous one.
Bottom line
After flying Qatar Airways Business Class, I realized this is one of the best business classes I have ever flown, even overcoming Emirates' ones. The main pro is undoubtedly the attention given by the flight attendants. I also loved a la Carte onboard service. The quality of the dishes and drinks is also exceptional! The internet on board is also very good.
As for the privacy of QSuites, I don't think it is that important. For me, what matters most is the seat comfort and being able to sleep well during the flight.
As a con, the aircraft change at the last minute stands out. Unfortunately, I wasn't able to fly Qatar Airways' A380.
Anyway, after staying more than 20 days in Asia, flying back home in Qatar Airways' Business Class made my trip much less tiring.
Cover photo credits: Oliver Holzbauer [CC BY-SA 2.0]