Santorini, Greece, is the ideal destination for your honeymoon trip. The views of the islands, the sunset, and the landscapes are simply stunning: perfect places for honeymoon couples. Words cannot describe how amazing this place is!
Santorini is an archipelago with a circular main island. This island is officially called Thira.  Thira is not to be mistaken with Fira, the main town of Thira. In addition to Thira, Santorini encompasses the inhabited island of Thirasia and the uninhabited islands of Nea Kameni, Palaia Kameni, Aspronisi and Christiana.
The Santorini archipelago is the remaining of a gigantic volcanic eruption that destroyed the first human settlements that existed on the ancient island and created the current geological caldera. (Source: Wikipedia).
We spent 4 days in this beautiful tourist destination. Check out how our trip was!
How to get to Santorini?
After a 40-minute Aegean Air flight from Athens, we arrived in Santorini!
You can get to Santorini by plane or by ferry.
By Plane
There are 4 airlines that fly between Athens (ATH) and Santorini (JTR):
Vueling operates flights between Rome (FCO) and Santorini (JTR). There are also seasonal flights between Santorini and many European capitals.
By Ferry
By ferry, it is possible to go from Athens (Piraeus Port) to Santorini with Blue Star Ferries. The trip lasts 8h30min.
Other companies that make the trip are Seajet, Hellenic Seaways and Nel Lines. There are also ferry connections to other Greek Islands. To the island of Mykonos, for instance, the journey takes 2h40min.
From Airport to Fira
Firstly, we thought of taking a bus from the airport to Fira, since it's cheap (1.80 Euros) and comfortable (like intercity buses). But we would have to wait at the bus stop for almost an hour. Besides we wanted to check the famous Santorini view right away. So we decided to take a taxi!
The taxi queue was huge and the taxi drivers were choosing who they wanted to carry and, even so, the taxis were shared with other passengers without our consent (but of course charging the full amount of the ride).
Thank god, we were chosen quickly! We shared the taxi with a couple who were going to Oía and we paid for our part of the trip, which took just 10 minutes. 18 Euros for the ride. Very expensive!
Where to stay in Santorini?
We stayed at Atlantis Hotel, in Fira. I strongly recommend it.  The hotel has a good location, next to the "Big Church" of Fira (The Orthodox Metropolitan Cathedral). It's well decorated, its rooms are nice and you have breakfast on a terrace with an incredible view of the "Caldera". Unfortunately, the accommodation prices in Santorini are not cheap.
We left our bags in the room and ran to see the view. Wow! Santorini is one of those places that you do have to visit!
Take organized tours
It's strongly recommended to take an organized tour in Santorini, especially to visit the other islands. To get around the main island, you can do it on your own by bus, but getting around can take a long time. That means won't get the most out of what Santorini has to offer.
We booked 3-day trips on Kamari Tours, one of the main tour operators in Santorini, but we have some issues with this company and don't recommend it to our readers, as you're going to read below.
In Santorini, tour companies don't pick up passengers at the hotel. That's because some hotels are not even accessible to cars. When you book a tour, they inform you about the pick-up's time and place. Be on time. They won't wait for you! Our pick-up point is in front of the Hospital in Fira.
Day 1. Fira & Firostefani
After getting the first views of Santorini, it's time to have lunch.
Taverna Elia Restaurant
We had lunch at Taverna Elia. I won't take very long explaining how to get there as the food was just reasonable. The Tzatziki was wonderful, the best I ate. But nobody goes to a restaurant just because of the starters!
Tzatziki is a typical Greek or Turkish dish made from yogurt, cucumber, and garlic. Tzatziki in Turkey is known as Cacik. The dish is also present in other countries and may vary in consistency and in the added herbs and spices. It has roots in the Ottoman Empire (Source: Wikipedia).
We spent the rest of our day getting lost in Fira's alleys, enjoying the local handicrafts made with volcanic stones, and tasting a delicious yogurt ice cream (Chillbox Frozen Yogurt). The ice cream itself leaves nothing to be desired in flavor compared to what we have in Brazil. But the toppings added a 'special touch' to our ice cream.
Firostefani
Firostefani is another town in Thira. Despite being considered a separate settlement, it's actually an extension of Fira. By the way, the name "Firostefani" (Fira + Stefani, meaning crown in Greek) derives from its position on the highest part of Fira. Its gifted location on the caldera, on the north part of the island, makes it a remarkable site (source: SantoriniView).
We walked to Firostefani to enjoy the sunset. I don't even know how to describe it. It's a spectacle of nature. We sat at a bar and ordered a bottle of champagne. Perfect Moment!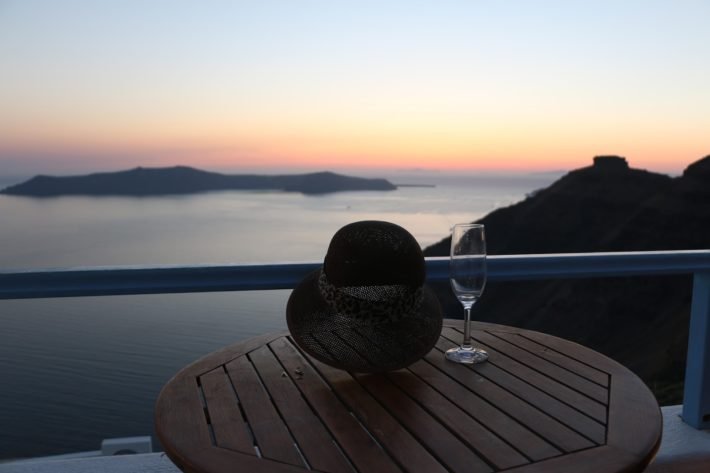 Assyrtiko Restaurant
At night, we had dinner at Assyrtiko in Fira. Great food. Excellent service. Quality ingredients! I ordered a Chicken Giuvetsi and my husband a fantastic mushroom risotto.
Assyrtiko is located on a street that passes behind Fira's main church. Very easy to find!  To taste a refined but affordable food, this is the place to be. The average dish costs 15 Euros.
Day 2. Aspronisi Island
Beach Exploration
The first tour was supposed to explore the beaches (Beach Exploration) and cost 35 Euros per person. I thought it was expensive, but they gave us a 10% discount to buy 3-day tours. it departed at 12:30 pm from Fira and returned around 5:30 pm.
The Kamari tourism attendant who sold the packages to us was a little sulky. Unfortunately, we had some surprises.
I believed that my beach tour would pass through Perissa and Perivolos, some of the famous beaches on the island. My mistake!
We took the bus to Santorini Port and then a boat took us to Aspronisi Island, known as the "white island" (which is white only at the top). The sand was short, black, and stony, but the sea extremely clear, allowing for some refreshing dives.
We stayed around 1 hour on this beach, we ate some snacks on the boat (there was chicken, bread, Tzatziki, meatballs, and sausage). Then, we continue the route passing by the black beach and diving in the open sea in front of the red beach.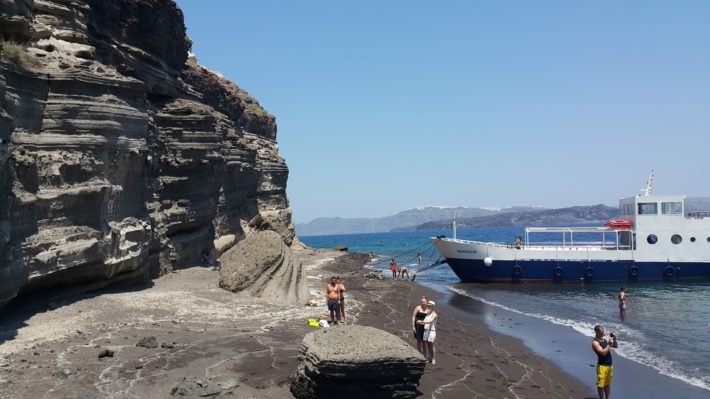 Do I recommend this tour? At first, no! Only if you have days left. I am sure that you have already visited similar or even more beautiful beaches.
Chef's Garden Restaurant
We had dinner at Chef's Garden, a restaurant on the street of the hospital, very well recommended by TripAdvisor. Perfect service. Delicious Vedema red wine. Nice food. We ordered Risotto (one with shrimp and the other with mushrooms) and they were tasty, but it doesn't compare to Assyrtico's risotto. Anyway, I have to say it was a very good value for money! Starter, dishes, and wine for two: 43 euros.
Day 3. Volcanic Islands Cruise
On the third day, we did a Volcanic Islands Cruise. The tour includes a visit to the Volcano, to the hot springs, and to Thirasia, ending with Oía Sunset.
As I said before, I had some issues with Kamari Tours. This 'cruise' was one of our worst experiences in Santorini. The boat was extremely full, i.e., if you stand up, somebody would steal your seat. The tour sound system was terrible, we couldn't understand even half of the guide explanations because we simply couldn't hear him.
Nea Kameni National Geological Park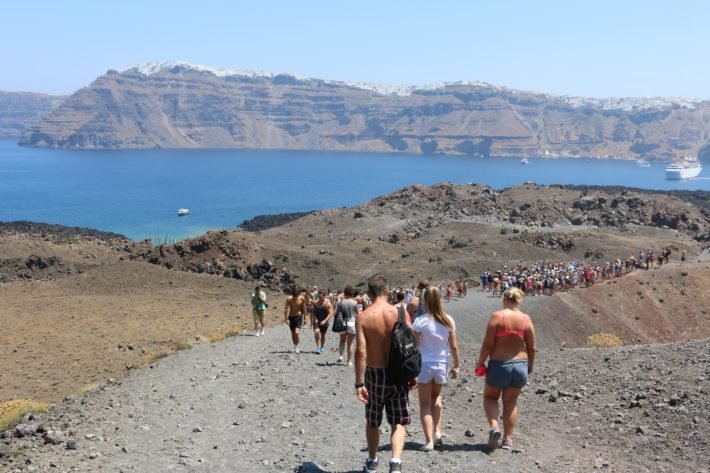 The Santorini archipelago, which includes the islands of Thira, Thirasia, Nea Kameni, Aspronisi, is the remaining of a major volcanic eruption, which occurred 3,600 years ago. Nea Kameni Island was formed of ash and lavas from several eruptions in the last millennia.
Nowadays, the area belongs to the National Geological Park. It's rocky terrain, but definitely a must-see!
First tip: you will need sneakers, as you will climb the volcano and then go to the beach! We were not told that, so we had some difficulty to climb the Park wearing flip flops!
The climb is tiring, but the view is worth it! We stayed for about 1 hour and 30 min there, as the climb itself takes about 30 minutes.
Hot Springs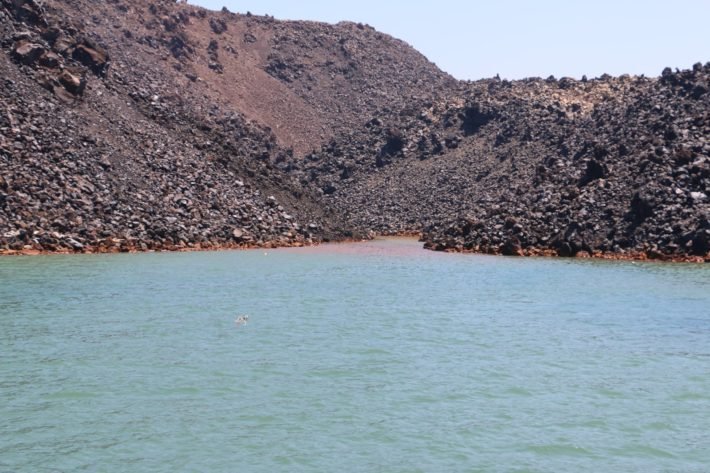 After visiting the Park, we went diving in the hot springs. When jumping from the boat, the water temperature was around 15°C (59°F), but as long as you get closer to the hot springs, the temperature rises to 35°C (95°F). You need to know how to swim, since the jump area is very deep (12 to 15-meter deep) and you have to swim through a channel until you can stand in the water. In the hot springs, you step a yellowish-colored volcanic mud.
The water is ferrous and you get that strange smell the rest of the ride. Hair hardens and needs an excellent conditioner at the end of the day. You'll also spend some time washing your bikini.
Thirasia
Then we stopped for lunch at Thirasia, an inhabited island in the Santorini archipelago. There are several restaurants there but the one we chose was terrible! I don't remember for sure, but I think it was Captain John. I don't know if you'll have better luck in another one, but run away from this one!
You can go high up the top of the village. 'Just' 120 steps! But we were tired and chose not to climb the mountain. It was a smart decision and soon you're going to know why …
After lunch, we took a break for diving in the crystal clear waters around Thirasia's restaurants, and then we took the boat to Oía Port.
Oía
Oía is also a settlement in Thira Island, but far away from Fira. It's where you find the famous Santorini Postcard: a church with a blue couple.
Those who bought the complete tour package, entitled to watch the Oía Sunset, got off the boat at Oía Port. It was our case. The others returned to Santorini's main Harbour and then to Fira.
Second tip: Don't buy the complete package. The tour is exactly the same, except for the Oía Sunset!
After disembarking at Oía Port, there's a steep and huge set of stairs that makes you want to cry! You could go up riding a donkey, by paying 5 euros, but, as I'm against this kind of animal exploitation, we decided to go up the stairs on foot!
You go up, up, up, and have to share space with the donkeys. They used to go down the hill at high speed. If you don't give them way, you'll definitely be run over.
So, if you're not an athlete and you're not used to exercising, don't make the same mistake we did. Go enjoy the sunset of Oía on another day! We were so exhausted from climbing the stairs (and of the tour itself) that we ended up taking a public transport bus to come back to the hotel! We'll watch the sunset another time.
But before coming back, at least we enjoyed a little of Oía's view.
Despite the tour's mishaps, the places we visited are incredible.
Theoni's Kitchen
In the evening, we have dinner at Theoni's Kitchen. I strongly recommend it! I ordered a delicious chicken kafta and my husband a kebab. The food is homemade and well served. To drink, we had a house wine that was also good.
Orders are taken by the owners themselves who are also very attentive. And, in the end, they gave us a free dessert (watermelon). In short, the restaurant was a great catch in Santorini. Besides, it's a great value for money restaurant. Our bill was just 29 Euros.
Day 4. Southern Part of Thira Island
We were so tired from the previous tour that we almost gave up our last tour. But, in the end, our tourist spirit spoke louder. Thank God!
Today's tour includes a lot of different attractions, mostly in the southern part of Thira Island: the Prophet Elias Monastery, the village of Megalochori, the Akrotiri Archaeological Site, Perivolos Beach and Santo Wine Winery.
Prophet Elias Monastery
Prophet Elias's monastery, according to our guide, is the highest point in the city and was home to only three monks.
According to legend, a Turkish boat was on the high seas and got lost due to severe weather conditions. Everyone was already disillusioned when they saw a fire and managed to be guided by it. This fire was nothing more than a bonfire lit by the monks to cook and which, for obscure reasons, took on enormous proportions. After being safe, the Turks sought out those responsible for their salvation and gave a lot of gold to the monks who were able to rebuild the monastery.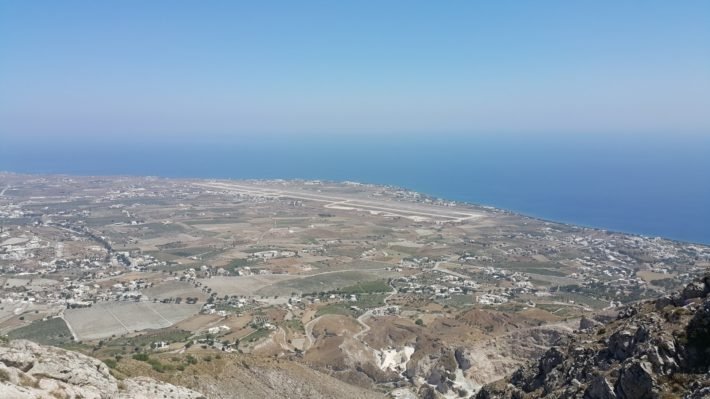 From the top of the monastery, it is possible to have a view of Santorini Airport.
Megalochori
Then we stroll through the charming village of Megalochori. Its name means 'big village'. According to legend, the name 'Megalochori' came from very important people from Greek history who were born in the region! It is a very gracious place, perfect for a romantic dinner, especially if you have your own car.
Speaking of cars, I saw no need to rent one. The roads are tortuous and nobody abides by the traffic law. Do to take a bus, which, as I said, is comfortable (you just need to know the schedules). But, if you're an adventurous person, there are plenty of cars and quads to rent!
Akrotiri Archaeological Site
Next stop: Akrotini archaeological Site. The site is very well preserved and is one of the few covered excavations in the world. This is done to protect the ruins, but I confess that it makes the visit so much easier!. The entrance ticket costs 5 Euros.
This site is believed to have the ruins of a merchant village, a place where merchants from Europe and Africa made their sales.
Unlike Pompeii, in Italy, you won't find bodies in the excavation, as the city was evacuated long before the volcanic eruption. It's not yet known how the population foresaw the volcanic eruption, but it was probably due to the progressive worsening of earthquakes. The population apparently took everything of value and set off for the island of Crete. It seems that everyone died during the crossing because of the tsunamis.
The site is definitely a must-visit in Santorini!
Perivolos Beach
Then we stopped for lunch at Perivolos beach. Although the sand was black, the water was transparent and at a pleasant temperature. If you are going to stay in Santorini for several days and want relax on the beach, go to Perivolos beach. There are several restaurants in front of the beach and you can rent an umbrella with 2 chairs for 6 to 10 euros a day.
Again, local buses can take you there! Don't need to get an organized tour, but stay tuned to the bus schedule.
Afros Restaurant
We had lunch at Afros, one of the restaurants in front of the beach. We tried the tomato dumpling which was delicious (crispy on the outside and a tomato filling that dripped when we cut the dumpling). We also ordered Gyros and Kafta. Both dishes were well served and very tasty. Gyros were accompanied by crispy french fries and a perfect Tsatziki.
Santo Wines Winery
We ended the tour at Santo Wines Winery.
If you want to take this tour just because of the wine tasting, give up! You sit at a small table and they throw the wine (that's right, throw the wine in your glass). We tried 3 types of white wine. I didn't like any, but I'm not a parameter for that, because I don't like white wine.
I saw some people doing a different wine tasting. Oh, yes, it seems to be worth it. They had about 10 glasses of wine, both white and red, and several appetizers. That, at that sunset, must be magnificent. Here's the tip and maybe I'll do it in the next opportunity!
However, the view from the place is fabulous! Perhaps the most beautiful of all the tours we did in Santorini. The pictures speak for themselves.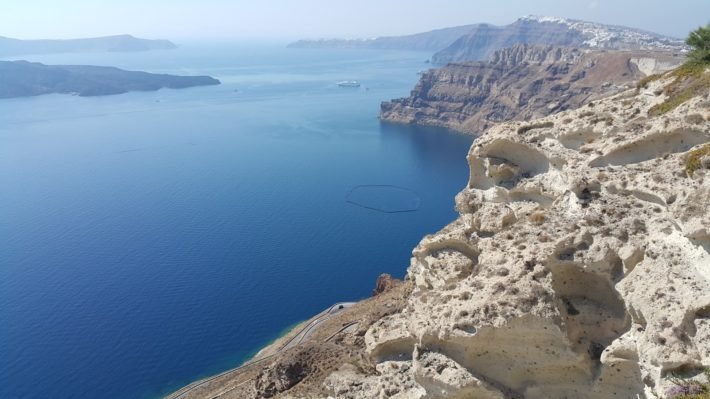 Bottom line
Santorini is a beautiful tourist destination on the Mediterranean Sea. The views of the islands and the sunset are impressive. It is an ideal destination for honeymooners, who can enjoy those natural landscapes together.
To take advantage of all that Santorini has to offer, I recommend hiring a tour (other than Kamari Tours). Despite the small setbacks, the images of this incredible tourist destination will remain in our memory forever.