Cartagena de Índias, also known simply as Cartagena, is an important tourist destination in Colombia. The city was founded in 1533 by Pedro de Heredia and played a significant role during the Spanish colonial era.
Due to the natural protection offered by its external and internal bays and the more than 20 islands that surround it, Cartagena was an ideal location for the installation of a commercial warehouse for the Spanish Empire.
It served as a crucial stopping point for goods and treasures being transported between the Spanish colonies in South America and Spain. Regrettably, this also included the transatlantic slave trade, where enslaved Africans were forcibly brought to the Americas.
Cartagena was attacked multiple times by pirates, corsairs, and French and English troops. A huge fortification was built around the city, which today constitutes the Historic Center of Cartagena, considered a World Heritage Site by UNESCO in 1984.
For tourists, Cartagena is a colorful and lively city. I recommend spending 2 to 3 days there if you plan to only visit the historic city, or 5 to 6 days if you want to explore the surrounding islands.
In this article, you'll find the essential tips for a more enjoyable and cost-effective stay in the beautiful city of Cartagena de Índias. Check it out!
1. How to get to Cartagena?
The most convenient way to reach Cartagena is by air, as Rafael Núñez International Airport (CTG) located in the Crespo neighborhood of the city. The airport is just a short drive of about 20 minutes from the city center.
CTG Airport offers non-stop flights to 27 destinations in 12 countries. Travelers from the USA can choose from direct flights from Miami (MIA), Fort Lauderdale (FLL), Orlando (MCO), and New York City (JFK), operated by Avianca, American Airlines, JetBlue, and Spirit Airlines. Those from Canada can take direct flights from Toronto (YYZ) and Montreal (YUL), operated by Air Transat. Other options for reaching Cartagena include connecting flights in Panama City (PTY), Bogotá (BOG), or Lima (LIM).
We experienced a smooth journey with Copa Airlines, flying from Brasilia (BSB), Brazil to Panama City, then to Cartagena. It's worth mentioning that Panama City's airport, also known as the "Americas' Hub," offers connections to and from various destinations in South, Central, and North America. Our flight took off at 2 AM in BSB and we arrived in CTG at 8 AM local time.
2. Cartagena is incredibly hot!
Cartagena de Indias has a tropical climate with hot temperatures ranging from 28-34°C (82-93°F). It experiences two seasons: a rainy season from May to October and a dry season from December to April.
The rainy season brings heavy rainfall and high humidity, while the dry season remains hot with occasional cool sea breezes.
Make sure to wear lightweight and breathable clothes, and bring a water bottle, sunglasses, and slather-on sunscreen. And watch the alcohol consumption, because dehydration makes hangovers way worse.
3. Harassment by street vendors
Be prepared for frequent solicitations. Expect vendors to approach you offering tours, souvenirs, refreshments, and trinkets wherever you go. It's normal to be upset about that!
4. How to get around the city?
If you're staying in the Historic City or in Getsemani, it is possible to walk to major attractions. Things can be a bit challenging if you're staying outside these central areas.
As you may know, the public transportation in Latin American cities, including Cartagena, is generally of poor quality. Cartagena has the Transcaribe system, which features newer buses but operates on limited routes and can become crowded at peak times.
Using Uber in Cartagena can be problematic, with limited availability and long wait times. As the service is not officially recognized in the city, drivers tend to avoid areas with a high presence of taxis or police. Thus, it's not recommended to rely solely on Uber for transportation.
If you do choose to take a taxi, keep in mind that they are yellow in Cartagena and are typically cheaper than using Uber, but they do not have a meter, and rates are fixed.
A trip from Bocagrande to the Historic Center costs 8,000 Colombian pesos – USD 2,50 (as of June 2019). Keep in mind that many taxis are small and do not have seat belts, and some drivers may drive recklessly. A trip from the airport to the historic center by taxi or Uber should cost around 20,000 pesos – USD 6,00 (as of June 2019).
5. Where should you eat in Cartagena?
In Cartagena, there are great dining options in both the Historic City and Getsemani. I highly recommend the following three restaurants that I tried:
Collage Charladero (4,3/5)
La Perla (4,5/5)
Sierpe Cocina Caribe (4,6/5).
Collage Charladero is located on Calle 34 in the old town near the Clock Tower. The food is delicious and reasonably priced. You can get an executive menu (main dish, juice of the day, and dessert) for 32,000 pesos (as of June 2019). I had Pescado as my main course and a yummy Arból Tomato Juice. The restaurant's decor is also noteworthy.
Next is La Perla, a Peruvian-Caribbean restaurant in the historic center on Calle 35. I enjoyed a delicious risotto with 'lomo' and a San José de Apalta Merlot wine. For dessert, I had a fantastic lemon meringue pie.
Lastly, there's Sierpe Cocina Caribe in Getsemani. It's a Peruvian restaurant where I had salmon with mashed yams. Everything was delicious, though I wasn't a fan of the wine options.
Another popular spot in Cartagena is Café del Mar, located on one of the ramparts in the old city. It's said to be one of the best places to watch the sunset in Cartagena. I visited but didn't get to try their services.
6. Where can I exchange money?
It's best to avoid exchanging money at the airport due to unfavorable exchange rates. Instead, use exchange offices located on Calle del Tablón.
Having local currency is essential for paying for taxis, making street purchases, and tipping. In restaurants and shops, you may use credit and debit cards for payment.
A crucial tip when visiting Cartagena is to never purchase tours from street vendors, as advised by many locals. Book your boat excursions at the ticket booths at Pier Muelle de La Bodeguita.
Another tip is to avoid hiring agencies without references. Check out travel agency reviews on TripAdvisor.
8. Take a Free Walking Tour
A Free Walking Tour in Cartagena was a highly rewarding experience. Our guide, Imera, was outstanding and shared a wealth of knowledge about the history of Cartagena and Latin America. The tour started at Plaza Santa Teresa and lasted just over two hours, making it a truly enriching experience.
As I said, in Cartagena, you will be constantly approached by salespeople of all kinds. To avoid surprises, always ask for the price of a service or product before accepting or using it.
10. Historic Center of Cartagena
The Historic Center of Cartagena is a fortified area with narrow streets and colonial-era buildings, where the city's elite once lived. Today, it is home to many of Cartagena's top attractions, including churches, museums, and squares. Visitors can enjoy strolling through the streets, admiring the colonial architecture, and soaking up the atmosphere in the squares and fortifications.
Note the differences between the colonial-era balconies made of wood and the more modern concrete balconies from the Republican era. After the Historic Center became a UNESCO World Heritage Site in 1984, changes to the original facades of the buildings were restricted.
Tip: Try some of the delicious fruit sold in the area and keep an eye out for the "palenqueras," women dressed in bright colors who sell fruit or offer to take photos for a tip. They are part of an ethnic group formed by escaped slaves who sought refuge in "Palenques."
The Historic Center is safe to explore both during the day and at night, with a large presence of tourists, locals, and police.
Getsemani is a charming neighborhood located just five minutes away from the fortified city, by foot. It was once an island separated by a canal, but has since been filled in.
The neighborhood is predominantly inhabited by the working class and it's common to see residents sitting outside their homes, watching the street bustling with activity (by the way, the cities in the interior of Brazil have a similar atmosphere). The Plaza de la Trinidad is a popular gathering spot for locals.
Getsemani is a popular choice among backpackers, offering a wide range of hostels, restaurants, and street life at prices more affordable than in the fortified city. As you stroll through the neighborhood, keep an eye out for the street art adorning the walls and squares. Unlike the historic city, the buildings in Getsemani are mostly single-story.
It's truly fascinating to see how a poor neighborhood with limited urban development has become a must-visit tourist destination.
12. Castle of San Felipe de Barajas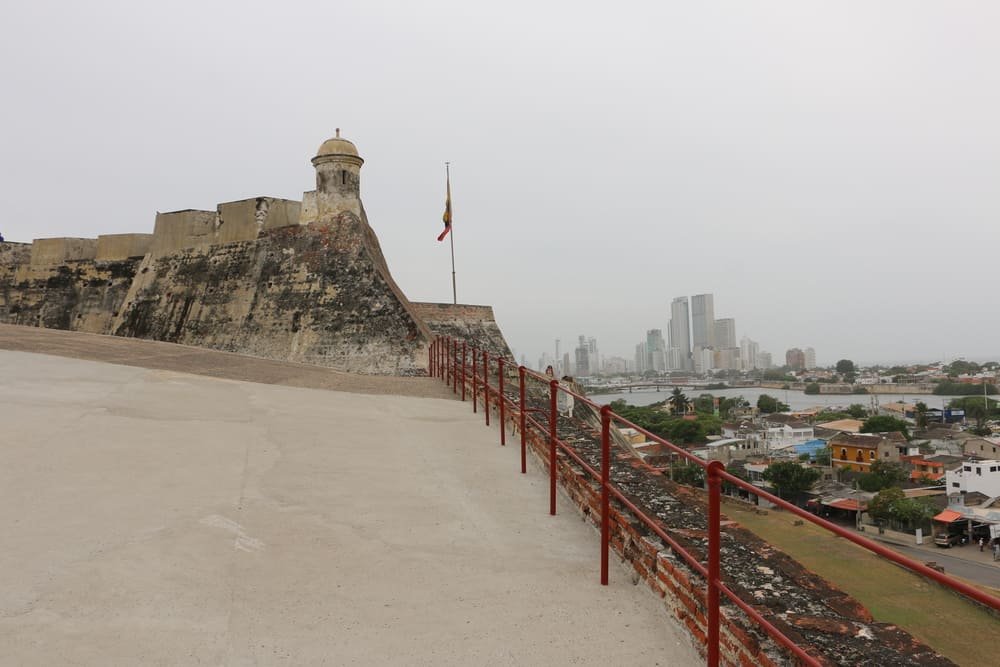 The Castillo de San Felipe de Barajas is a fortification near the Getsemani neighborhood located on Cerro de San Lázaro. I highly recommend visiting it!
Construction began in 1657. It was named in honor of King Felipe IV. Upon completion, it was the strongest fortification in all of Spanish America.
Its purpose was to protect the city from land attacks. Cartagena was already protected by the sea and by the fortifications around the city. Eventual attacks by sea should be made from the (external) bay. The ships, then, would have to enter the bay through the so-called "Bocagrande" or "Bocachica." In Bocagrande, an underwater wall was installed. In Bocachica, forts were installed.
It consists of several batteries (platforms to install the cannons), drawbridges, guardhouses, and tunnels. The castle could house up to 500 soldiers.
Currently, it's one of Cartagenas' main tourist attractions. The ticket costs 25,000 pesos for foreigners or about US$ 7,50 (as of June 2019). It is also possible to hire guides for guided tours. The historic city can be reached from the castle in 15-20 minutes by walking through Getsemani.
#Tips:
Visit the tunnels that allowed soldiers to move to different strategic positions in the castle.
Watch the video presented at the former Hospital de Tropas. It's a 25-minute animation that tells a little about the history of Cartagena and the castle. It has air conditioning.
Enjoy the view of Cartagena from the top of the castle.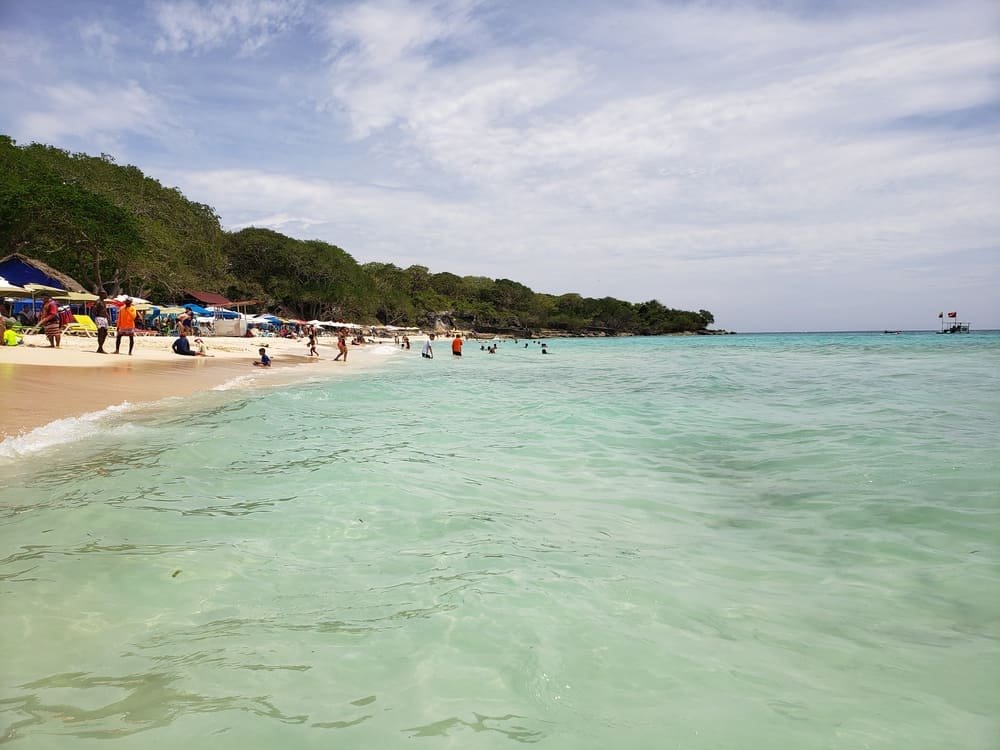 I do not recommend visiting Playa Blanca on Baru Island. Although the beach is visually attractive, it's not very special. The beach is frequently crowded with jet skis, boats, and banana boats, and there is a noticeable smell of burnt fuel in the air.
Getting there by car will take at least an hour. Upon arrival, be prepared to be approached by vendors and service providers who will try to overcharge you for things like beer (which they may offer for 7,000 pesos when it should cost 4,000) and umbrellas (which they may charge 50,000 pesos for when the usual cost is 20,000).
If you're seeking a peaceful environment, I advise you to choose a private island such as Isla del Pirata, instead.
Cartagena is worth much more for its historic and urban aspects than for the beauty of its beaches. If you want to enjoy Cartagena's natural landscapes, one of the tips is to visit a private island, where you'll have more peace of mind to relax, without being constantly approached by vendors.